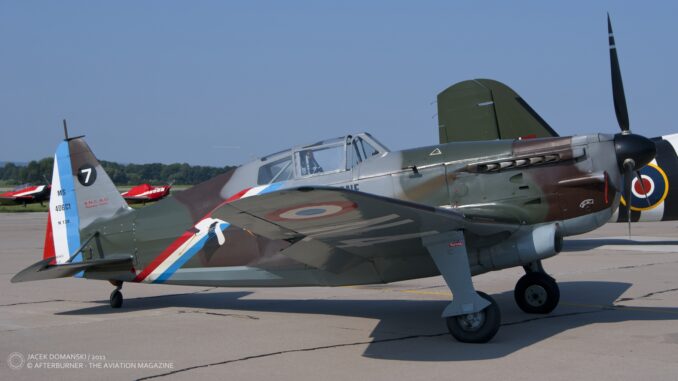 Capt. Jean Assoland, French aviation pioneer, is shot down by British fighters over Madagascar.
Jean Assoland (also known as Bernache-Assolant) began his military career with the French Navy. In 1924, at the age of 19, Assoland changed the fleet for aviation and became a military pilot.
He served as master sergeant at 34th aviation regiment at Le Bourget, when Armand Lotti asked him to join a dangerous, but tempting, escapade of a transatlantic flight. Together with third crew member, René Lefèvre, they intended to perform an eastbound-crossing of the North Atlantic in a Bernard 190T aircraft.
Although breaking aviation records was a quite popular adventure in the late 1920s, transatlantic flights were one of the most dangerous ones and, due to several tragic accidents, were already excluded from official financial support and prohibited by the French authorities.
Lotti, the only child of a wealthy hotelier family, did not have to worry about government support. He already bought one of only three ever made Bernard 191 GR aircraft (being a ´Grand Raid´ variant of an aeroplane designed by Jean Hubert for Bernard aviation company) and hired an engineer, Raoul Leroy, to take care of the aeroplane and prepare it for transatlantic adventure. The yellow-painted aeroplane was officially named L'Oiseau Canari (English: canary bird) – somehow regarding to L'Oiseau Blanc (English: white bird), an aircraft flown by Charles Nungesser and François Coli. One year earlier the two World War I heroes made an attempt to cross the Atlantic from Paris to New York, however, the aircraft and its crew disappeared without any trace during the flight.
In order to hide their true intention from the French authorities, L'Oiseau Canari was first flown to London and then transferred to the USA. On 13th June 1929, the yellow Bernard 191 GR took-off from Old Orchard Beach in Maine and headed France. Shortly thereafter the fourth person was found on board of L'Oiseau Canari – it was a young American, Arthur Schreiber, who was hiding in the rear section of the aircraft. Schreiber, an adventurer who wanted to write a book about the flight and make a name for himself, became the first ever stowaway passenger on an aircraft.
Initially, the flight was uneventful but later the crew of L'Oiseau Canari was forced to change the optimal route because of severe weather conditions. They wanted to fly south for a certain time and then return to a course to France, but due to navigation error the aircraft was flying even more south than intended.
Finally, on 14th June, after 29 hours and 22 minutes of flight, the empty tanks forced L'Oiseau Canari to land at the beach of Oyambre (Cantabria, Spain). The first French transatlantic flight was successfully completed and, in addition, the crew of Bernard 191 GR set up the new record in a length of over-the-sea flight – 5,900 kilometres. Ironically, it was that navigation error that resulted in a safe landing in Spain. If this did not happen, the ´Canary Bird´ most probably would end the flight somewhere in the middle of the Bay of Biscay.
Two years after this record-breaking flight, Jean Assoland left the air force and became a commercial and test pilot. He participated in several aviation events in Europe and the USA, including the famous ´Air Race´ in Cleveland, Ohio.
In 1933, together with René Lefèvre, he made an attempt of setting another record, this time in Bernard 81 GR. Unfortunately, the long-distance flight from Oran had to be cancelled due to engine technical problems. 
A year later, Assoland moved to a French colony of Madagascar, to join Lefèvre who has opened his own local airline there. Firstly, having just two S.P.C.A. 41T / 218 aircraft, they established a postal service to Northern Rhodesia, being then followed by regular passenger flights on several routes in the area.
In the eve of World War II, reserve-lieutenant Jean Assoland was recalled for active service. He volunteered to return to France and was assigned to Groupe de chasse GC III/6. On 15th March 1940 he was promoted to captain.
During his combat service in the French Campaign of 1940, Assoland flew both M.S. 406 and Dewoitine D.520 fighters. He was credited with two air victories, together with Pierre le Goan, both over FIAT CR.42 ´Falco´ biplanes. After the fall of France, Jean Assoland returned to Madagascar and continued his work with the airline.
Nevertheless, the war followed him there. Madagascar was among those French colonies that declared their support to Vichy government. As a result, the British considered this island as a significant threat, especially with increased Japanese activity in the Indian Ocean area. The colony, being loyal to Vichy France, could be used as a naval base for German and Japanese submarines, finally resulting in cutting off the Cape Route.
Therefore an Allied landing operation was planned, codenamed ´Operation Ironclad´. It was expected by the British military authority, that the French armed forces at Madagascar would not resist and the operation should end after a few weeks. In fact, they underestimated the enemy and Madagascar campaign lasted approximately six months.
On 7th May 1942, during the second day of ´Operation Ironclad´,  three M.S. 406 fighters of Escadron de chasse 565 flown by Assoland, Léonetti and Laurant were intercepted by a formation of Martlet II fighters from HMS ´Illustruous´. After a short fight, all three French aircraft and one British fighter were shot down. Regrettably, Capt. Jean Assoland was the only pilot that did not survive this fight.
Initially Assoland was considered missing, but in September the same year his remains were found in the wreckage of his M.S. 406, 12 kilometres off Diego Suarez.
Pictured above, for illustration purposes, is a D-3801 fighter (a Swiss-made variant of M.S. 406), being painted to represent the Morane Saulnier 406 of the French Air Force.