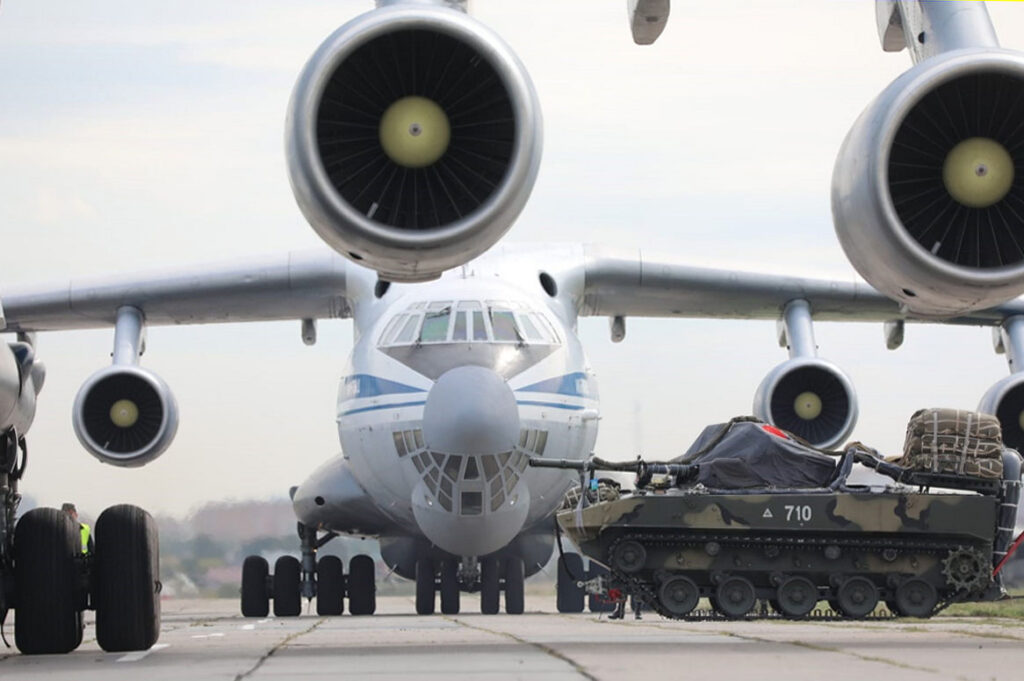 Strategic joint exercise ´Zapad-2021´, that was held between 10th and 16th September at nine training areas in Russia and Belarus, included several airborne operations carried out by both the Russian Airborne Forces (Воздушно-десантные войска России) and the Special Forces of Belarus (Cілы спецыяльных аперацый Узброеных Сіл Рэспублікі Беларусь).
Several particular operations organized within the framework of ´Zapad-2021´ exercise were organized on basis of a joint-mission scenario, additionally involving the air force, naval and army aviation. Furthermore, apart from paratroopers of the two abovementioned countries, the airborne forces from Kazakhstan and India participated in the exercise.
The largest in scale airborne operation, that took place during ´Zapad-2021´ exercise, was held at Brestsky training ground, in the Republic of Belarus. More than 400 paratroopers and 39 vehicles from Russia and Belarus have participated in that training.
The main objective of that operation was to secure landing area, capture surrounding zone and to establish a designated defence line. In the next step, an amphibious assault operation was planned, focused on destroying a mock enemy and holding the taken area until arrival of the main forces.
At the very beginning, a battalion of guards paratroopers of airborne assault unit from Pskov has landed in the designated area. It arrived there after a more than 1,000 kilometres long direct flight from Kresty air base in the Pskov region, the home airfield of that unit. The paratroopers were dropped from altitude of 600 metres, using D-10 parachute systems. After securing the landing zone and providing some reconnaissance, the main airborne group was called in.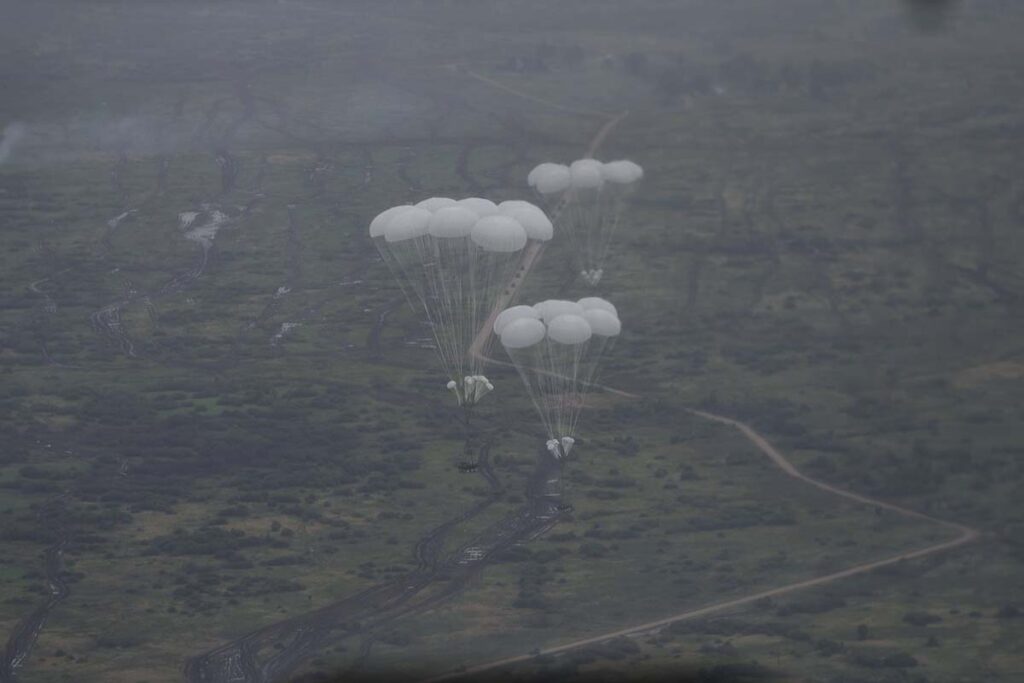 It arrived from Machulishchy air base, located 13 kilometres south of Minsk. The Russian and Belarusian airborne troops and their equipment were dropped from Il-76TD aircraft, arriving to the area with a thirty-second intervals. More than twenty transport aeroplanes were involved in that part of the exercise.
After securing the area around the landing zone, the paratroopers launched their assault operation, mentioned above. They successfully managed to capture the line of a nearby river and blocked three bridges there, not allowing the mock enemy to deploy support forces into the area. That position was held until arrival of motorized rifle units.
A tactical airborne operation was organized at Pravdinsky training ground, belonging to an army corps of the Baltic Fleet and located in the Kaliningrad region. About 300 airborne troops of the abovementioned unit from Pskov, participated in that part of ´Zapad-2021´ exercise.
The paratroopers and their equipment – including twelve BMD-2KU combat vehicles – were carried into the area by ten II-76MD cargo aircraft of the Russian Aerospace Forces. The airborne forces and their equipment was dropped from altitude of 800 metres, using both D-10 and D-6 parachute systems.
It should be mentioned that airborne operation near Kaliningrad was combined with an exercise of the Baltic Fleet aviation. At the very beginning, a pair of Su-27 fighters cleared an airspace over the landing zone by engaging aircraft of the mock enemy and then destroying them. In the second phase of aviation exercise, a formation of Su-24 bombers performed an air raid on ground targets in the area.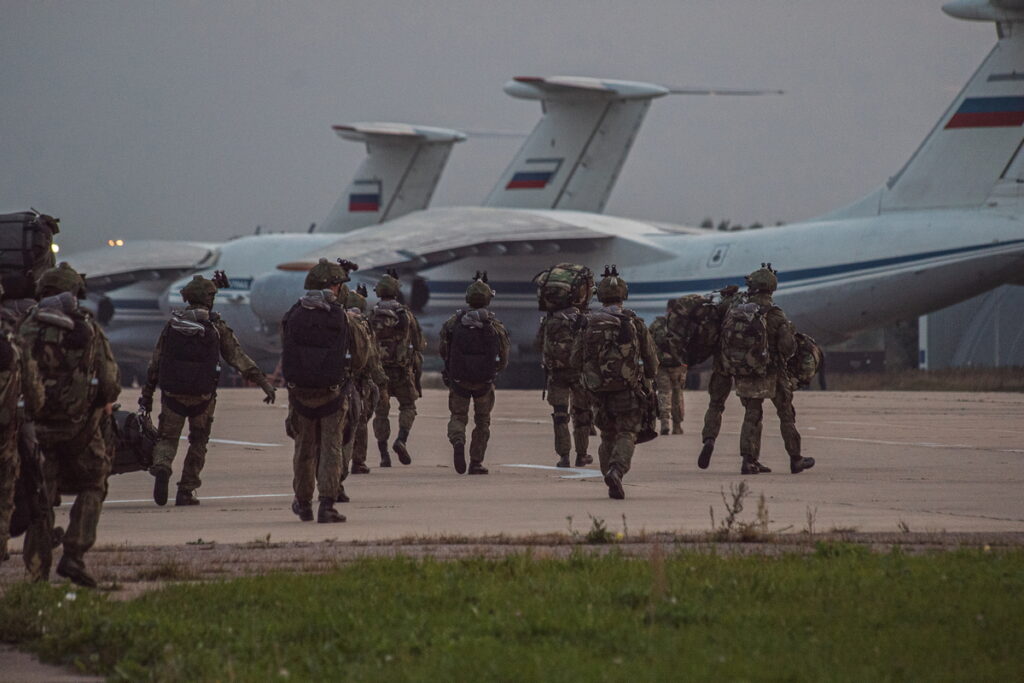 After landing, the paratroopers from Pskov captured their objective – a bridgehead – and successfully defended it, destroying advanced detachments of the mock enemy.
An airborne operation involving a long-range reconnaissance group was performed at Zhitovo training area, in the Ryazan region. A reconnaissance unit was dropped into the area from Il-76MD transport aircraft, at speed of about 360 kph and at altitude of 8,000 metres. During the drop, the recce team was using high-altitude landing kits Junker-O, that includes a special-purpose parachute of Steyer system and a set of domestically-made oxygen equipment, Oxy Height.
In addition, after successful landing of the reconnaissance team, the second drop was performed – this time delivering weapons, ammunition, demiolition equipment, food and other necessary items. That second drop was made from altitude of 1,500 metres, using recently-developed parachute cargo systems PGS-1500 and UPGS-250.
At the same training range, another interesting airborne operation was also performed. Its objective was to deliver an aviation coordination and guidance team, which was dropped from altitude of 2,500 metres from An-26 transport aircraft. During this exercise, four Dalnolet special-purpose parachute systems were used and, as some of the team specialist did not have a parachute training, two Tandem-400S systems, allowing the paratroopers to perform combat jump with a passenger.
The Russian Airborne Forces have also performed, for the very first time, an airborne operation with landing of a parachute battalion, equipped with the latest BMD-4M combat vehicles. That training also took place at Zhitovo fire range and involved an airborne guard unit from the Tula region.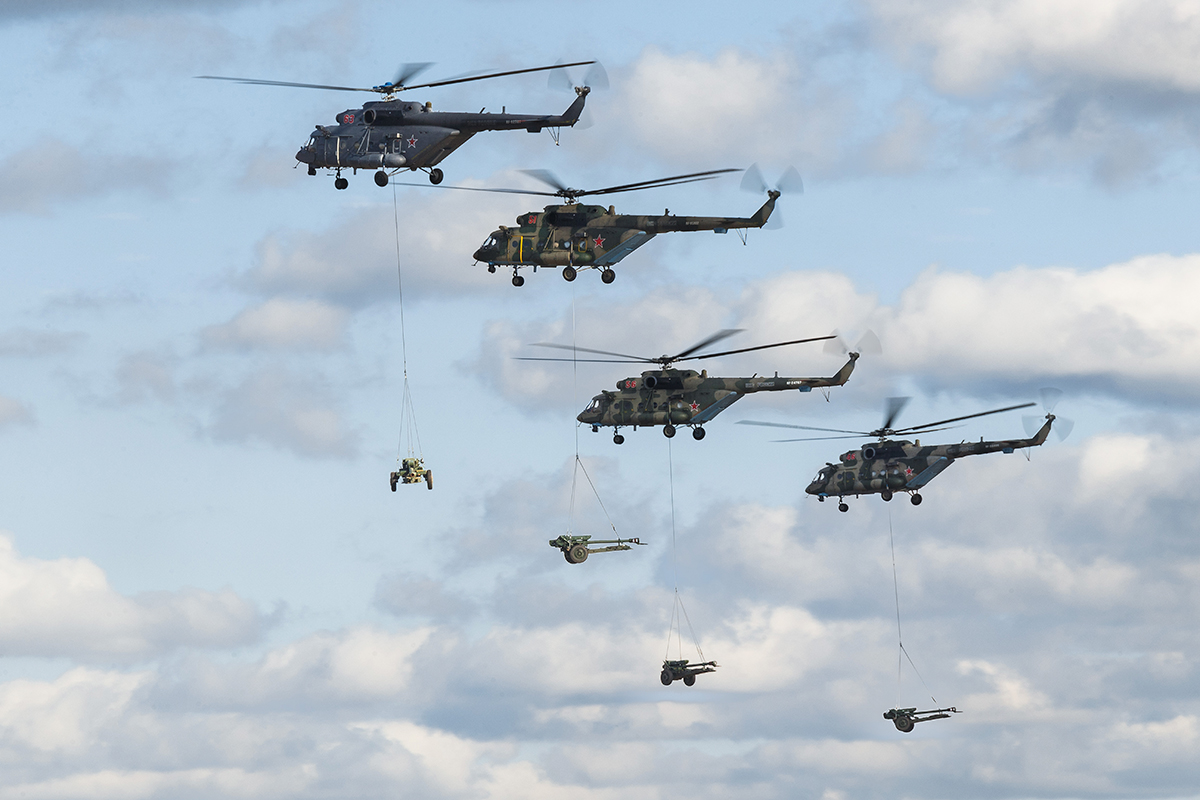 A total of twenty one Il-76MD transport aircraft have participated in that phase of ´Zapad-2021´ exercise, parallelly delivering the paratroopers and their equipment to two landing sites. The drop was performed from altitudes between 800 and 1,100 metres, being additionally covered by a formation of Su-35S fighters. In order to ensure a safe landing of the newest airborne combat vehicles, PBS-950U platforms with MKS-350-12M2 multi-parachute systems were used.
More than 300 of the Russian airborne troops and more than 30 of BMD-4M vehicles successfully landed in the designated area. Along with the Russian paratroopers, twenty airborne soldiers from India participated in this exercise.
And, last but not least, a joint exercise of the Russian Airborne Forces and the Kazakh Air Assault Forces (Десанттық-шабуылдау әскерлері) should be mentioned. It was held at Mulino training area in the Nizhny Novgorod region, with a training scenario focused on performing a combat mission behind the mock enemy lines.
About 300 paratroopers from Russia and Kazakhstan have participated in that part of ´Zapad-2021´ exercise, supported by ten helicopters from the Russian Army Aviation and a battery of D-30 howitzers delivered into the area by transport rotorcraft.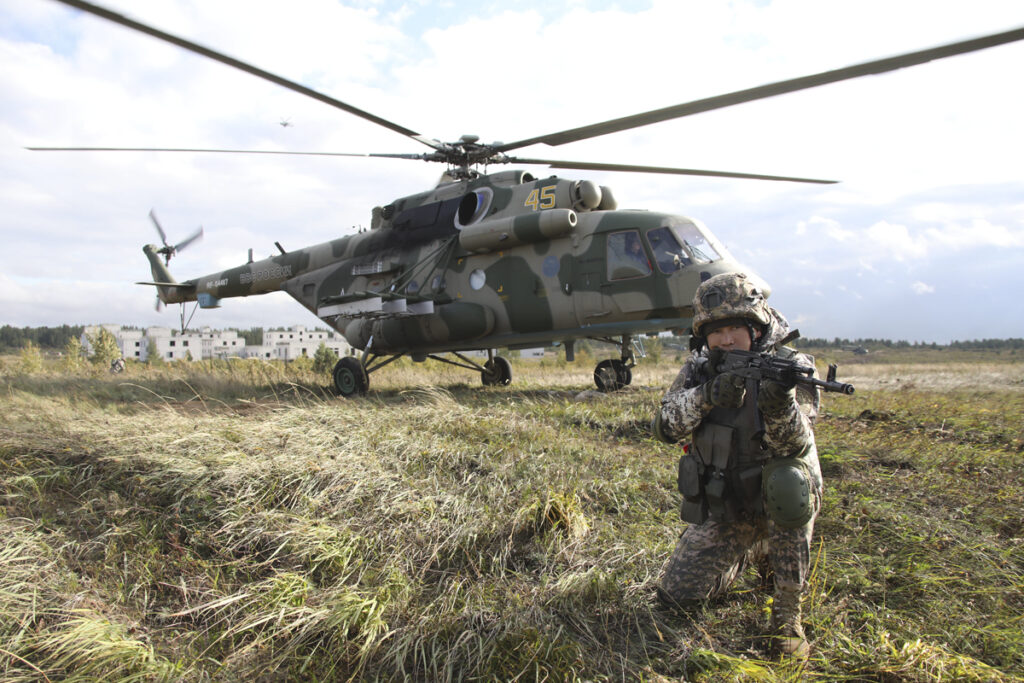 Cover photo: BMD-4M combat vehicles are boarding Il-76TD transport aircraft. All photos © Russian MoD (Министерство обороны Российской Федерации), used under the Creative Commons Attribution 4.0 license. MoD press information were used.