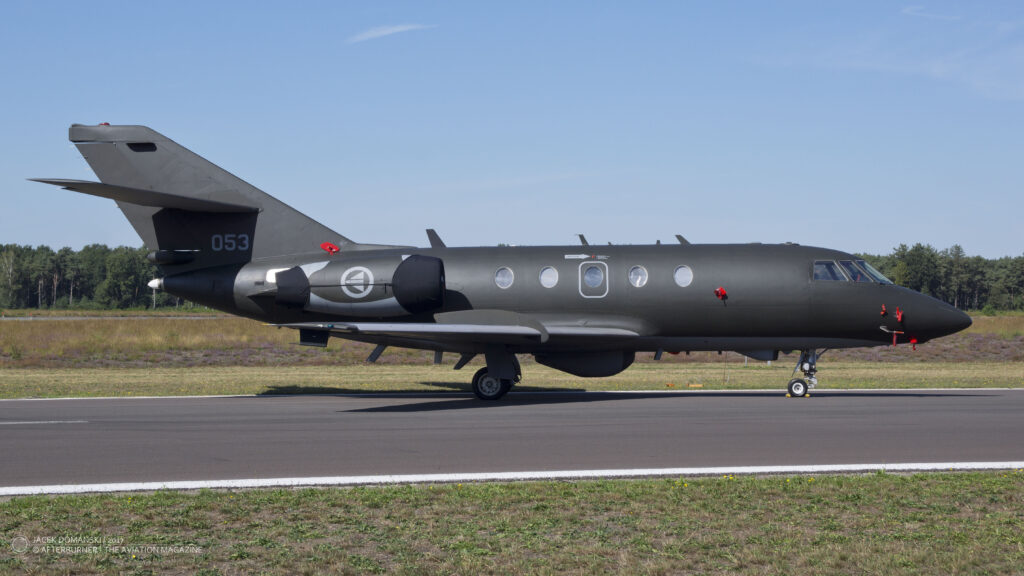 Dassault Falcon DA20 ECM electronic warfare aircraft, the Royal Norwegian Air Force ´053´, exhibited at static display during Kleine-Brogel spotterday, September 2019.
Falcon 20 is originally a business jet, designed and produced by Dassault Aviation. Initially, the aircraft was designated Dassault-Breguet Mystère 20 and its development was launched yet in 1961.
The prototype successfully made its maiden flight on 4th May 1963 and its serial production was launched approximately two years later. It is also worth to mention that on 10th June 1965, Jacqueline Auriol achieved the world speed record in the women´s category, flying one of the Mystère 20 prototypes.
In order to increase sales of the new business jet, Dassault established a partnership with Pan American airline that had to be responsible for distribution of the French aircraft in the western hemisphere. Following that agreement, the original engines were replaced by General Electric CF700 and a few additional changes were made in the initial design. In 1966, aircraft delivered for the American market were re-designated as Fan Jet Falcon, later shortened to just Falcon 20.
The new business jet quickly gained popularity among commercial and corporate operators. Soon after, followed by significant military orders from the USA, Canada, France, Australia and other countries. The Falcon 20 turned out to be easily adaptable to various military needs, therefore started to be used for maritime surveillance, pollution monitoring, electronic warfare and many other roles.
The Falcon 20 was operated by the US Coast Guard (as HU-25 Guardian), the French Air Force, the Royal Australian Air Force, Belgian Air Component, the Royal Canadian Air Force (as CC-117), the Portuguese Air Force and several other military operators in Africa, Asia and South America.
One former HU-25C was acquired by NASA and used to collect data on Arctic surface topography, using a scanning laser altimeter. Another ex-USCG Falcons were used by the USAF as test bed aircraft.
Currently, the Dassault business jets are still being operated, in various roles, by more than ten armed forces, including the French Navy, the Japan Coast Guard or the Spanish Air Force. Nevertheless, their time is running out, and soon most of them will be replaced by newer designs.
The Royal Norwegian Air Force has acquired two Falcons in 1972, from Fred. Olsen Flyselkap airline. Another one was purchased in 1979, also from the abovementioned civilian operator.
With growing importance of electronic warfare, two Norwegian Falcons were adapted for the new role of an EW aircraft, able to collect intelligence data and disrupt electromagnetic signals. Designated as Falcon ECM, those aeroplanes were assigned to the 335th Squadron at Rygge.
The third one remained in its initial passenger configuration, able to carry up to eight passengers. It was used for VIP transport and calibration of navigation and approach systems. In 1995, all three Norwegian Falcons were re-assigned to the newly formed 717th Squadron at Gardermoen. In 2017, the passenger variant of DA20 was retired from active service.
In November of 2016, the Norwegian MoD has announced about a forthcoming retirement of its ageing fleet of DA 20 and P-3 Orion MPA aircraft. The two remaining Falcons and six P-3 Orions will be soon replaced by five Boeing P-8 Poseidon aircraft. Delivery of the first Multimission Maritime Aircraft is planned for 2022. As a consequence, the Falcons ECM will be retired until 2024.