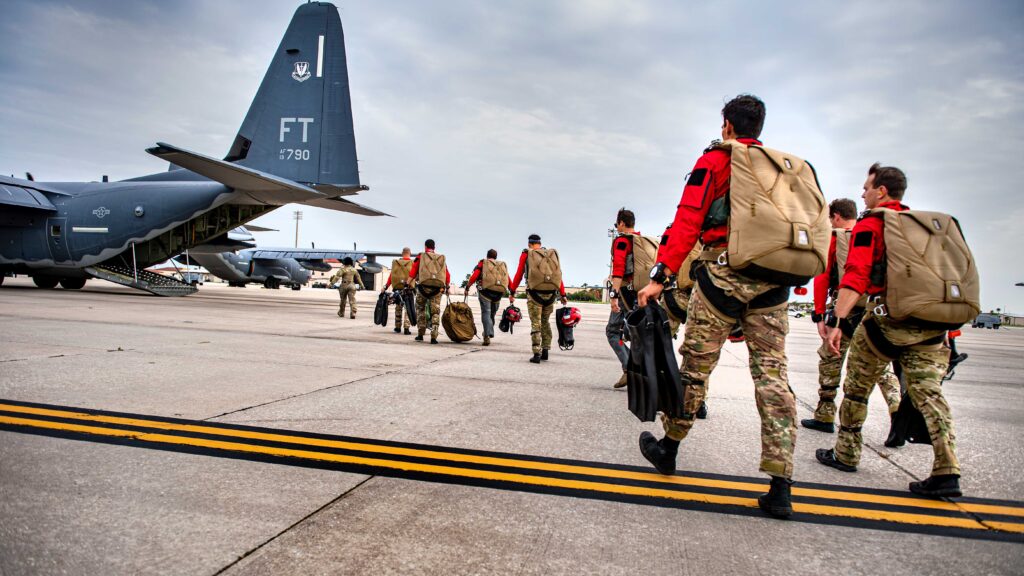 A specialized rescue training aimed to support the manned missions of SpaceX and Boeing was held between 23rd and 27th August in vicinity of Patrick Space Force Base, Florida. Pararescuemen, aircrews and maritime operation specialists that participated in the exercise are on a daily basis assigned to the 38th Rescue Squadron at Moody Air Force Base, Georgia.
During the training, the 38th RQS Blue Team practised freefall jumps and equipment drops into the waters of Banana River and Atlantic Ocean. Created as an immediate response force, the Blue Team will be supporting the SpaceX Human Spaceflight programme as well as Boeing manned space flights.
´When astronauts are doing their launches, we cover down in the Pacific or Atlantic Ocean,´ said Tech. Sgt. Michael Galindo, 38th RQS pararescueman Blue Team section chief. ´That way if they have an emergency and they need a bailout, we're the rescue team on-site who would recover them from their capsule.´
Securing the safety of the space crews require the team to achieve a proficiency level in many areas – starting from their basic knowledge of safe landing in the ocean with rescue gear. In addition, members of the Blue Team must learn how to operate two different types of rescue boats. The first of them is called Rigging Alternate Method Boat (RAMB) and basically is a variant of a deflated Combat Rubber Raiding Craft (CRRC) that can be dropped from an aircraft with a parachute and then inflated upon landing.
The other one is a ´hard duck´ type boat, in other words being an inflated CRRC with a fixed wooden base. And that one also may be parachute dropped if necessary. Both boats can be loaded with additional equipment, medical supplies, paddles and boat engines, and therefore allowing the Blue Team to begin their rescue mission practically immediately after jumping into the drop zone.
On 31st October, SpaceX is going to launch a ´Crew-3´ mission that will be another milestone for that company. The spaceship will transport astronauts to the International Space Station, where they are going to spend six months. It was already announced that NASA allowed SpaceX to reuse boosters of Falcon 9 rocket and capsule of Crew Dragon for this space flight.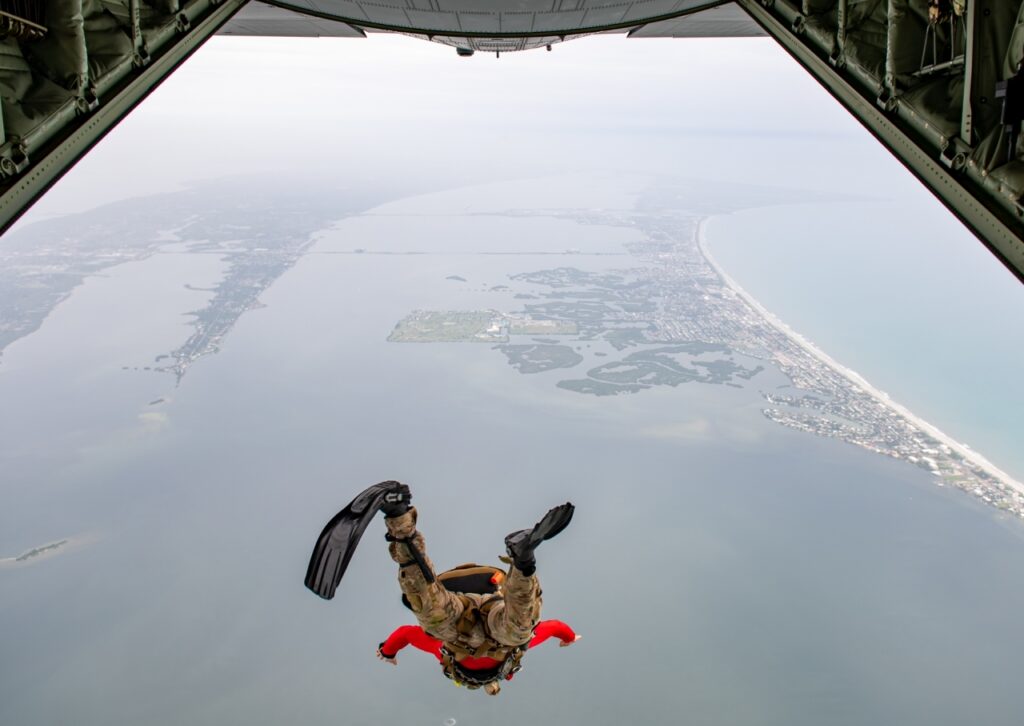 ´Heaven forbid anything goes wrong, we'll be ready if it does,´ said Capt. Trent Vonich, 38th RQS Blue Team flight commander, and added: ´In October, we're actually doing two weeks of additional training at Cape Canaveral to learn how to access the SpaceX and Boeing capsules … and then make sure we can get access to the astronauts.´
If anything goes wrong during the launch of manned spaceship, the capsule with astronauts on board will automatically detach from the rocket and eject itself away to avoid potential explosion or other danger. Then the capsule should land safely in the ocean, where the rescuers from the 38th RQS would recover it and extract the crew.
The members of the Blue Team emphasizes that performing live-training exercises on regular basis is a key to be ready when needed and to offer the astronauts a certain level of comfort.
´It reassures them that if they do have an emergency, they know there's a team who is highly trained in these types of rescues,´ said Tech. Sgt. Galindo.
Apart from conducting the trainings at Cape Canaveral and Patrick Space Force Base, the 38th RQS is also prepared for potential rescue operations in contingency locations – the Arabian Gulf and the South China Sea.
It is important to mention here that the United States is not the only country that has brough to life a rescue team, specially dedicated to assist during the manned spaceflights. In March of this year we wrote about the Russian specialized search and rescue group of the Central Military District (Поисково-спасательная группа ЦВО), its equipment and training programme.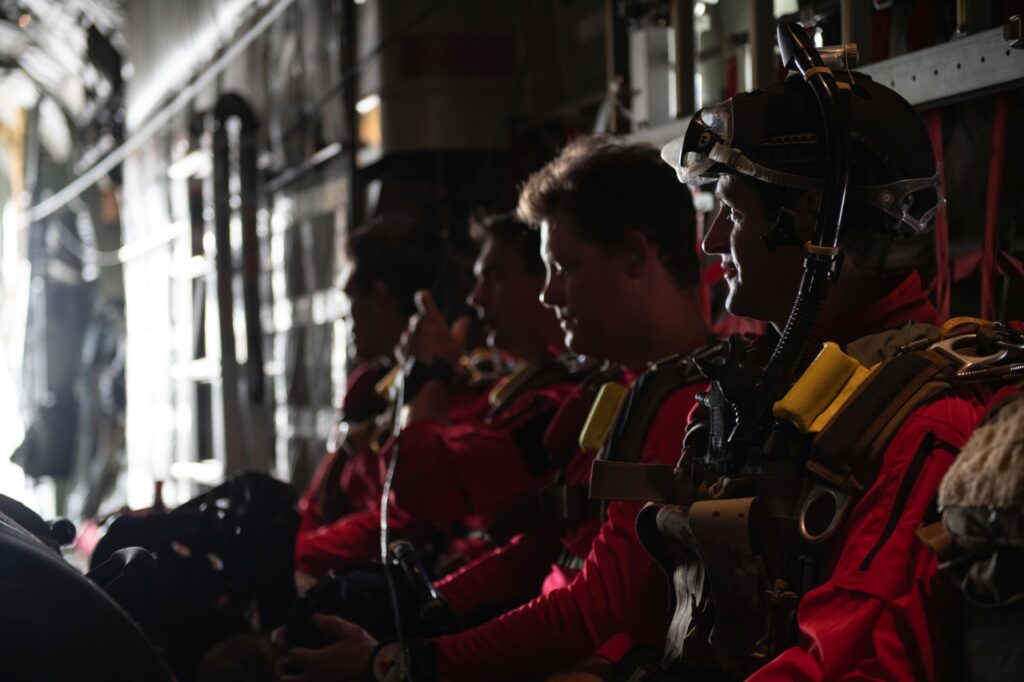 All photos and quotations © U.S. Department of Defence (DoD), cover photo (USAF pararescuemen assigned to the 38th RQS walk to an HC-130J Combat King II aircraft) – USAF photo by Staff Sgt. Melanie A. Bulow-Gonterman. DoD information materials and press releases (story by Staff Sgt. Devin Boyer) were used, in compliance with Public Domain licence. The appearance of U.S. Department of Defense (DoD) visual information does not imply or constitute DoD endorsement.