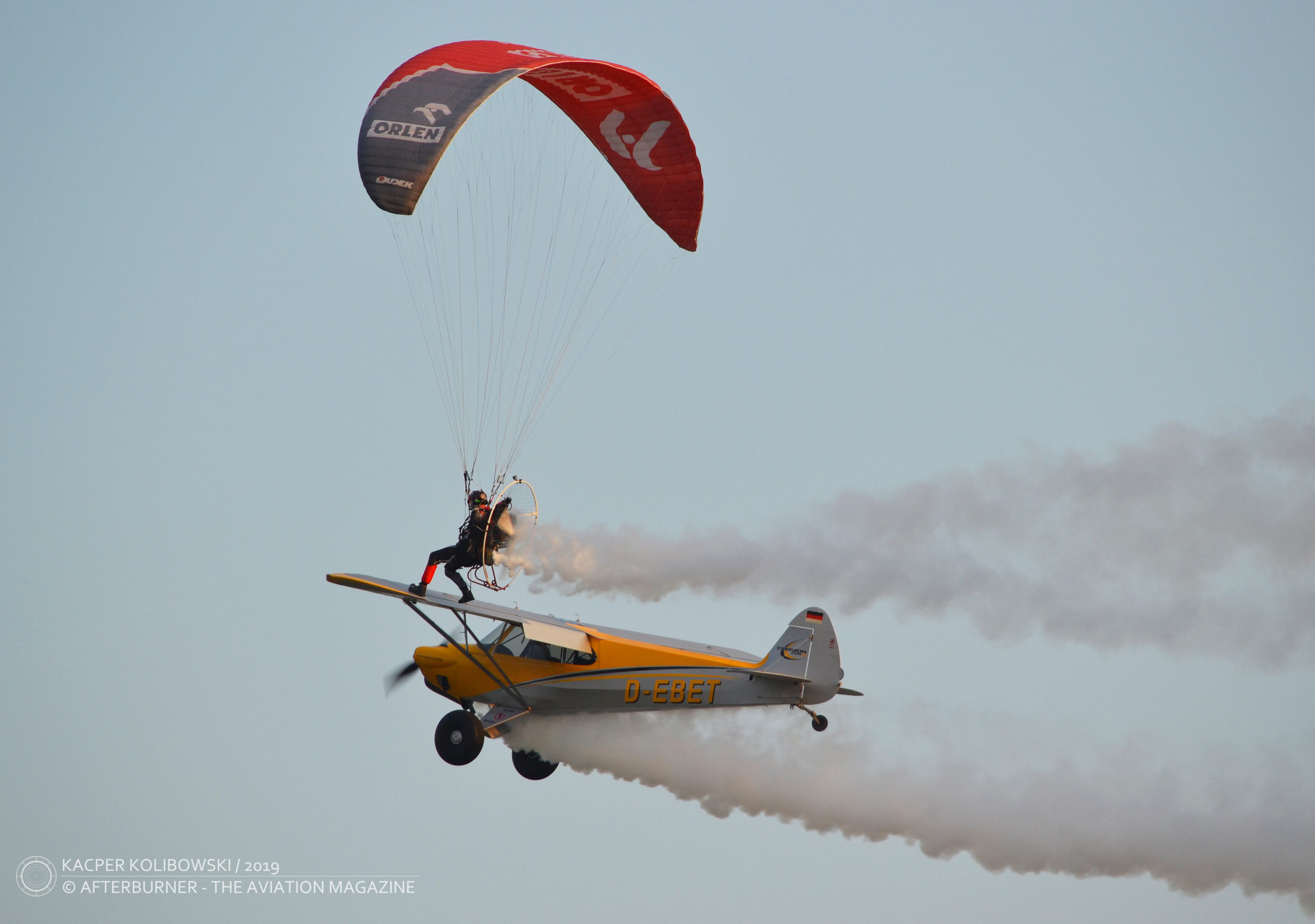 A powered paraglider (PPG) is standing on the wing of Carbon Cub during the joint flying display at the Central Air Show, organized in 2019 to celebrate the 100th Anniversary of the Polish Aero Club.
The Central Air Show was held on 31st August 2019 at Rzeszów Aero Club airfield in Jasionka, commemorating the 100th anniversary of the Polish Aero Club. During this event, approximately 70 aircraft from Poland and other countries could be seen in the sky, being the representatives of civil, sport and military aviation.
As the aeroclub organization brings together the aviation sport around the country, many of leading Polish sport pilots could be seen during this show. One of them was Wojciech Bógdał – the most successful pilot in the history of Polish paragliding sport. Although Bógdał started his career in aviation sport relatively recently, just eight years ago, he already managed to achieve all limits of paragliding.
Wojciech Bógdał debuted as a paraglider in 2012, taking part in the Polish Paragliding League competition. After just one year he become a member of the National Paraglider Team and competed in his first international event – Slalom World Championships, organized in Aspres-sur-Buëch (France).
Since that time Wojciech Bógdał is actively competing in the paragliding sport on national and international level. He is representing Poland on regular basis, each year taking part in European and World Championships and usually winning top prizes and championship titles. Although Bógdał is now just 25 year old, he already managed to win a nearly complete collection of paragliding championship prizes and medals, including multiple Polish, European and World Champion; together with the first place in Non-Olympic Games competition, in 2017 being organized in Wrocław, Poland.
Bógdał´s joint flying display with Carbon Cub piloted by Kamil Skorupski was one of the highlights of the Central Air Show in 2019. Indeed, it was an extraordinary show, once again pushing the limits of paragliding. It was exactly the show in Rzeszów when Bógdał became the first paraglider pilot ever to stand on the wing of the flying aeroplane – and we introduce that very moment in today´s ´Photo of the Week´.