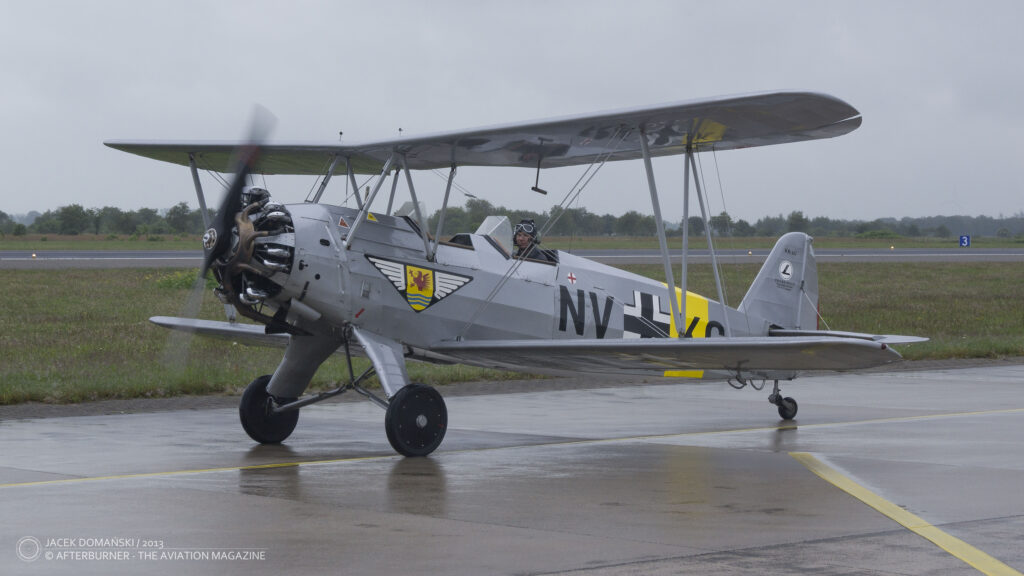 Focke-Wulf Fw 44J ´Stieglitz´ (c/n: 663, formerly ´663´ of the Swedish Air Force, D-ENAY / Quax Flieger association), taxiing at Fliegerhorst Wittmundhafen air force base, June 2013.
At first, there was ´Kiebitz´ (English: lapwing), a sport biplane made in Germany in 1928. It was designed by Klages and Wohlberg, aviation engineers working at Focke-Wulf, as a side-project – not supported by the company and done beyond their official work hours. The aircraft they made, was initially intended for Gerd Achgelis, famous German aviation pioneer, test and aerobatic pilot.
Nevertheless, the Klages/Wohlberg biplane turned out to be good enough that within a year it was officially adopted by Focke-Wulf and designated Fw S 24. Thirty one examples of that aircraft were built and eventually in 1931, ´Kiebitz´ allowed Achgelis to win the German aerobatic championship.
Although successful with the S 24, Achgelis was still expecting more and asked Klages to develop the biplane further. And again, this was an unofficial project, however this time being acknowledged by the Focke-Wulf company.
On 5th September 1932 in Bremen, the first flight of the new aircraft took place, obviously carried out by Gerd Achgelis himself. The maiden flight was successful and Achgelis officially became the first owner of the new aerobatic biplane, designated Focke-Wulf Fw 44A ´Stieglitz´ (English: goldfinch).
Nevertheless, it was soon realized that the aircraft had a tendency to go into flat spin, due to an incorrect angle of the upper wing pitch. This resulted in loss of the first prototype in September of 1933 but after examining the case that issue was successfully eliminated.
Serial production of the biplane was launched in 1934, starting with ´D´ variant. The Fw 44 quickly became a popular training, aerobatic and sport biplane. A few examples were sold to Sweden, Finland, Norway, Austria, Bulgaria and Turkey.
In 1936, the Focke-Wulf company held a South America demonstration tour, presenting ´Stieglitz´ in Argentina, Chile, Colombia, Brazil and Bolivia. It resulted in two sale contracts, for Argentina and Chile, as well as granting the right for license production of the Fw 44 in Argentina and Brazil.
The design of ´Stieglitz´ was being constantly developed, especially after receiving critical feedback from then famous aerobatic and stunt pilots, including the World War I hero, Ernst Udet. Subsequent variants of the Fw 44 were marked with consecutive letters, ending with J, as the last regular version – plus two prototypes designated M and N, but never reaching the stage of serial production.
The total number of manufactured Fw 44 aircraft is not definitively confirmed and it varies depending on a source. ´Stieglitz´ was being produced in four aviation plants in Germany (apart from Focke-Wulf, also at AGO, Flugzeugbau Halle and Bücker) and at ČKD in Prague, then license-manufactured in Argentina, Brazil, Sweden and Austria. Estimations of the total number of aircraft built are between 1,800 and 3,000, however 2,125 examples seems to be the most probable assesment.
The Swedish Air Force (Flygvapnet) acquired its first two ´Stieglitz´ aircraft in April of 1935, after a successful demonstration display held at Ljungbyhed. Initially, the Fw 44 in Swedish service were designated P2, but later their name was changed to Sk 12.
Within the next two years, the Swedish Air Force not only ordered a batch of 14 more Fw 44 but also acquired the rights to manufacture the biplane under licence. Between 1937 and 1943, two Swedish aviation plants made 57 aeroplanes and, together with further purchases, the total number of ´Stieglitz´ aircraft within the Flygvapnet service reached 85 examples.
The pictured aeroplane was one of the Fw 44Js that were license made in Sweden. Manufactured in 1940 by Centrala Verkstaden Västerås (CVV) company, the aircraft was operated by the Swedish Air Force. After its retirement in 1953, that Fw 44J was sold to a private owner and underwent a complete restoration, using original parts from another aircraft of that type.
Then it changed its owners a few times, finally being registered as D-ENAY in Germany and owned by a member of Quax Förderverein. The aircraft is currently painted as NV+KG, representing a livery used by Luftwaffe flying schools in the 1930s and 1940s.