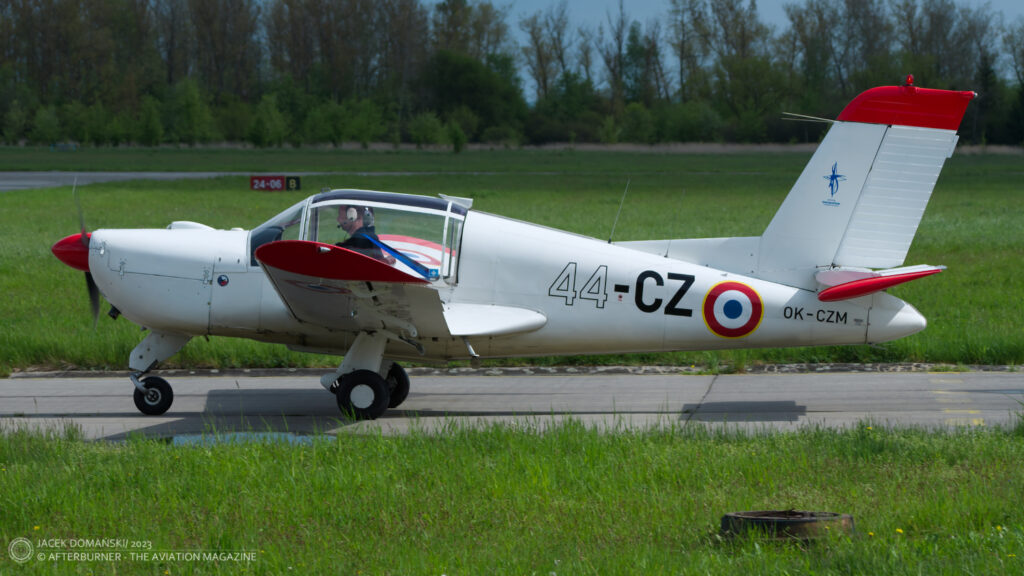 Morane-Saulnier (SOCATA) MS 893A Rallye Commodore (c/n 10638, OK-CZM), taxiing to runway at Plzeň-Líně airfield, Líně, May 2023.
It is very rare in general aviation sector that new aeroplanes are made because of government-organized competition. Nevertheless, one of such cases happened in the post-war France – and even twice.
In 1947, the first contest for light, two-seat aircraft suitable for aeroclubs and flight training was announced by SALS – Service de l'Aviation Légère et Sportive (English: Light and Sport Aviation Department), a body subordinated to Ministry of Transport and taking care of providing aircraft and flight instructors to French aeroclubs. However, due to some controversial decisions the competition remained unsettled.
The second approach took place in the late 1950s. Then, a similar competition was announced by SFASA – Service de la Formation Aéronautique et des Sports Aériens (English: Aeronautical Training and Air Sports Department), the successor of SAL.
The call was responded by as many as ten manufacturers that submitted the following projects: RAC Mignet HM 370 Auto-Ciel, S.E.R.A. 01-A. Legrand-Simon LS 60, HelicopAir L.50 Ghirel, Gatard Hirondelle, Labat IL-60 Nomade, Le Gris LG 21, Lemaire ARL 20, Gardan GY 100 and Morane-Saulnier MS 880 Rallye.
It is worth noting that majority of the aforementioned proposals were aeroplanes of unorthodox, or better said, daring design. Just for example – the Ghirel was a hybrid of an aeroplane and autogyro; the HM 370 represented the ´Pou-du-Ciel´ (English: Flying Flea) concept, with possibility to change angle of attack of the front wing that resulted in pitching the aircraft nose up and down; the GY 100 was a twin-boom, all-metal pusher with tricycle undercarriage; the 01-A was a tandem-wing three seat aeroplane, also in pusher configuration but with flaps on its front wing, while elevator and ailerons were attached to the rear wing.
However, the winner of the SFASA competition was chosen among more conventional aircraft designs. It was the LS 60, a tiny high-wing aeroplane with tailwheel configuration of landing gear and STOL capabilities, designed by Paul Legrand of SNECMA and Michel Simon of Bréguet Aviation. It was then expected that SFASA would order at least 200 examples of the new aircraft, but that never happened and the LS 60 didn´t want beyond prototype stage.
The exact reason why the project was abandoned was not clear and still is the subject of some speculations. Among many hypotheses there is one saying that the project – despite being the winner of the contest – was cancelled by Bréguet. At that time, the company abandoned all its light aviation activities and focused on more profitable designs like Br.1150 Atlantique. Another theory points that, in general concept, the LS 60 closely resembled Piper Cub, which was already well-known and popular in French aeroclubs at that time.
Nonetheless, the definitive winner of the contest – although not official – was another design, the Morane-Saulnier MS 880 Rallye. Despite not being selected in the tender, the manufacturer decided to continue with further development of its aeroplane. On 10th June 1959, the prototype of the Rallye performed its maiden flight and in November of 1961, the first production examples received the type certificate.
However, in November of 1962, Morane-Saulnier went into bankruptcy. The company was taken over by Potez but in the next three years it changed hands several times. Finally, the Morane-Saulnier assets were assigned to a new company named SOCATA, a subsidiary of Sud Aviation.
In retrospect, this proved to be a right decision as soon the MS 880 and its derivatives became popular worldwide and appreciated sport and training aircraft. Apart from the initial, lightweight airframe and two-seat aeroplane (the 880 series), SOCATA developed also a heavier, four-seat variant (the 890 series aka Rallye Commodore). The aircraft was powered by various versions of Lycoming or Franklin engines of 100 to 235 horsepower.
The MS 880/890 was manufactured by SOCATA until the end of 1984, with approximately 3,300 examples of the aircraft built. Then, production of the aeroplane was continued in Poland, based on the licence acquired by PZL – Państwowe Zakłady Lotnicze (English: State Aviation Works). That Polish variant was designated PZL-110 Koliber (English: hummingbird) and powered by Franklin engine, generating 116 hp. In 1988, the PZL-110 was further developed in PZL-150 training aircraft, equipped with 150 hp Lycoming engine.
An interesting fact is that in 1981, the Rallye aircraft was used by Alain Marchand, a then forty-seven-year-old flight instructor to fly under the Arc de Triomphe in Paris.
The aeroplane pictured within our Photo of the Week series was manufactured in 1966, as MS 892 Rallye Commodore, powered by Lycoming O-320 engine, generating 150 hp. In 1988, the aircraft was re-built into MS 892A and equipped with 180 hp Lycoming O-360.
In 2021, the aeroplane became part of Classic Trainers collection at Plzeň-Líně airfield. It was also the time that MS 892 received its new registration OK-CZM and changed its livery which is now representing the Rallye operated by the French Air Force in the 1970s.