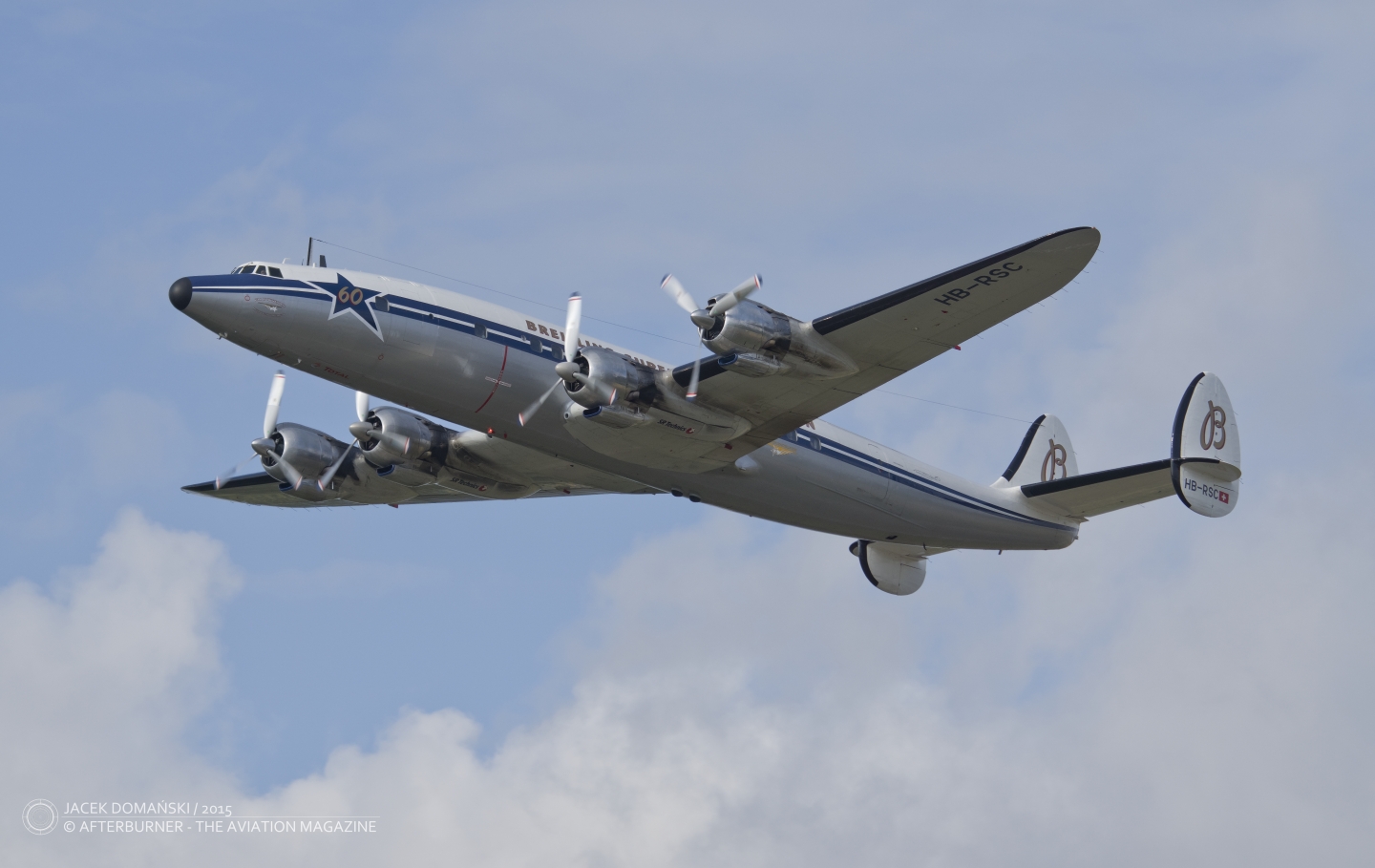 Howard Hughes and Jack Frye set a west-to-east US transcontinental record, flying from Burbank, California to Washington, D.C. in 6 hours and 58 minutes.
Howard Hughes, a legendary entrepreneur, millionaire and aviator, was also the major stockholder of Trans World Airlines (TWA), one of major American airlines. Shortly before the outbreak of World War II, he asked the Lockheed company to design a new airliner for TWA: four-engine transcontinental aeroplane, able to carry at least 40 passengers and with its range not less than 5,600 km. However, the first operator of the new aircraft created by following Hughes´ request, was not TWA, but the United States Army Air Force, that used Lockheed Constellation – as the airliner was named – for long-distance transport during the last years of the war.
In 1944, Hughes borrowed the second prototype of C-69, the military variant of Constellation, painted it with TWA livery and together with Jack Frye (TWA president, as his co-pilot), Kelly Johnson (one of Lockheed engineers) and Ava Gardner (actress and singer, at that time being in relationship with Hughes), took-off for the record flight on 17th April 1944.
On the way back, Hughes made a stopover at Wright Field (now Wright-Patterson AFB) in Ohio. There he took Orville Wright aboard, allowing Wright to be ´Connie´ co-pilot for a while. More than 40 years since the first-ever flight of powered aircraft, performed by Orville Wright on 17th December 1903, he was now piloting a beautiful, four-engine airliner with 8,800 hp, transcontinental range and cruise speed of more than 500 kph; representing the most advanced aviation technology at that time.
When flying with ´Connie´ during his last-ever flight, Orville Wright pointed – as mentioned in the book ´Lockheed´, by Bill Yenne – that her wingspan is longer than the distance of his first flight in the Wright Flyer.
Pictured above is C-121C, a modernized military variant of Lockheed Constellation, introduced in 1947. This particular aircraft was manufactured in 1955 and, after retiring the military service in 1972, had a long, interesting career and many different owners. But, most importantly, she was still flying, finally becoming one of the only two airworthy Lockheed Constellation in the world. Since 2007 this aircraft was owned and operated by Super Constellation Flyers Association in Switzerland, registered as HB-RSC. Unfortunately, after a major mechanical issues being found in 2017, and facing a restoration cost of more than 20 million CHF, SCFA suspended the flying activity of ´The Star of Switzerland´. In 2019, HB-RSC was bought by a group of German investors and moved to Germany. The new owner is planning to perform a full restoration and make ´Connie´ airworthy again, however this process can last several years.