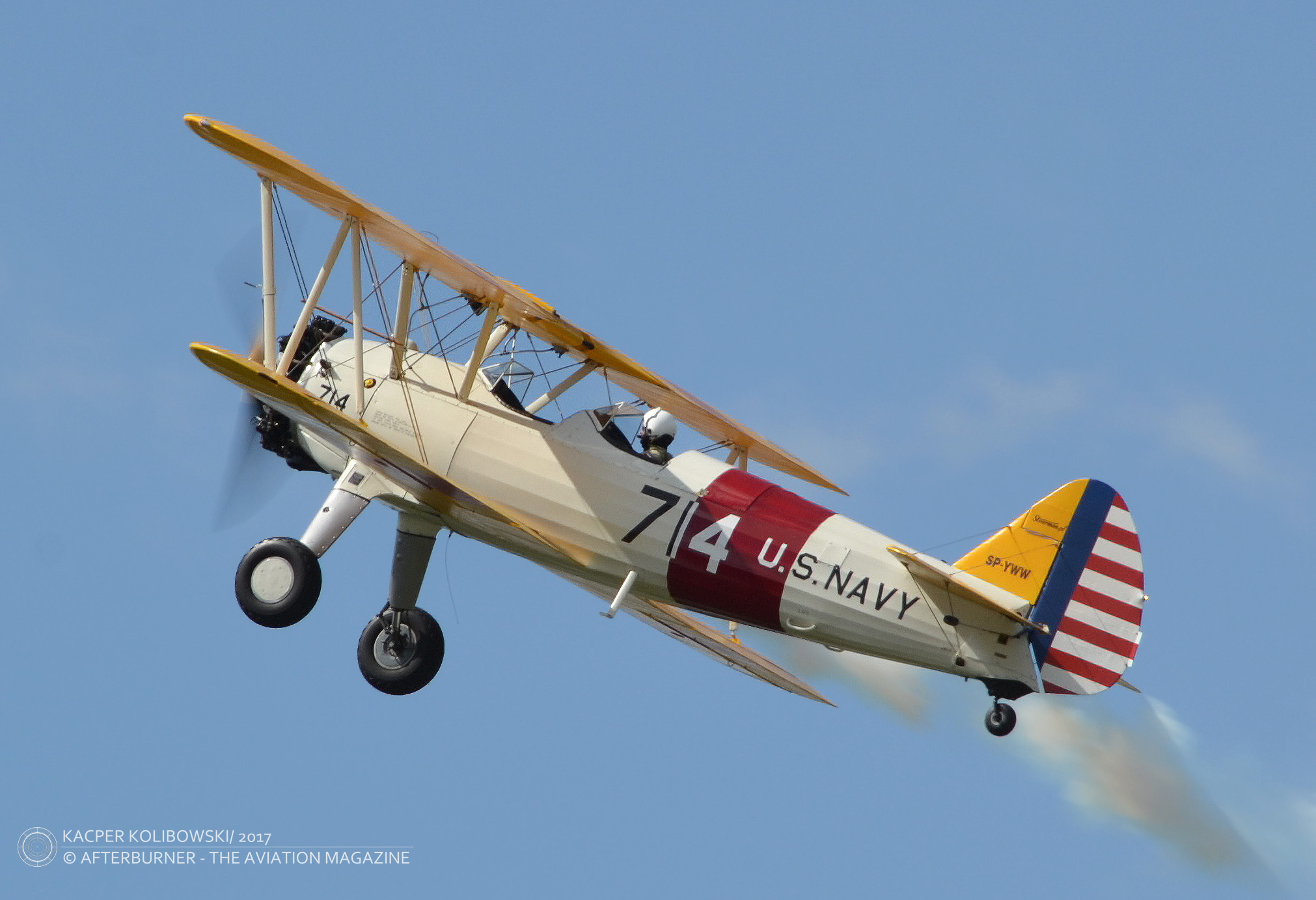 The famous Stearman Model 75 begins its military career.
The Stearman Model 75, also known as just Stearman, Boeing Stearman or Kaydet, is definitely an aeroplane that does not need to be especially introduced to aviation enthusiasts. That classic silhouette of the biplane of simple and rugged construction with fixed undercarriage, open tandem cockpits and mostly – despite some examples, uncowled radial engine and two-blade propeller with a characteristic sound, are probably known to every aircraft lover in the world.
The aeroplane was being manufactured in the 1930s and 1940s by Stearman Aircraft company located in Witchita, Kansas; that in 1934 became a subsidiary of then yet already growing giant of aviation industry – the Boeing Airplane Company. Within that time, a total of more than 10,620 aircraft of this type in 28 different variants and designations were produced. The vast majority of them, as many as 10,346 examples, were built during World War II. Therefore, it is not surprising that Stearman, similarly to many other aircraft of that time, is clearly associated with military aviation.
Exactly 86 years ago, on 18th December 1934, the first Stearman was delivered to the military operator, entering its operational service shortly after. Since then, the aircraft of this type soon became the main basic training aircraft of the United States Army Air Forces (U.S. Army Air Corps), designated as PT; the United States Navy, as NS and N2S; and the Royal Canadian Air Force, where it was commonly known as Kaydet.
The aeroplane served its role throughout the whole Second World War and during that time, thousands of pilots, including many famous flying aces trained on it and earned their wings. Moreover, aircraft of this type have also been used by the air forces of other countries around the world, including Argentina, Bolivia, Brazil, Republic of China, Colombia, Cuba, Dominican Republic, Greece, Guatemala, Honduras, Iran, Israel, Mexico, Nicaragua, Paraguay, Peru, Philippines, Venezuela and Yugoslavia. Some of them were still in service many years after the Second World War.
And when the war ended, many of these aircraft, including those from military surplus, were sold out to private owners. In civil aviation, those biplanes have been used in various purposes, sometimes being more or less modified. They were, in example, used for crop dusting, once the appropriate additional equipment has been installed in the aircraft. Moreover, within next few decades, Stearman/Kaydet aeroplanes were a constant attraction of air shows and could be seen performing i.e. aerobatics or wing walking displays – many of them still performing those stunts nowadays.
Fortunately, many of those iconic biplanes survived until today, and we can see them not only in museums but also in the sky, as several Stearman biplanes are still airworthy. A good example is the Boeing N2S-3 Stearman pictured above.
Being currently the only aeroplane of this type in Poland, Stearman ´SP-YWW´ is a frequent participant of air shows organized across Poland and also in neighbouring countries. If you want to learn more about this particular aeroplane, please refer to our Photo of the Week section, where it was introduced a few months ago.