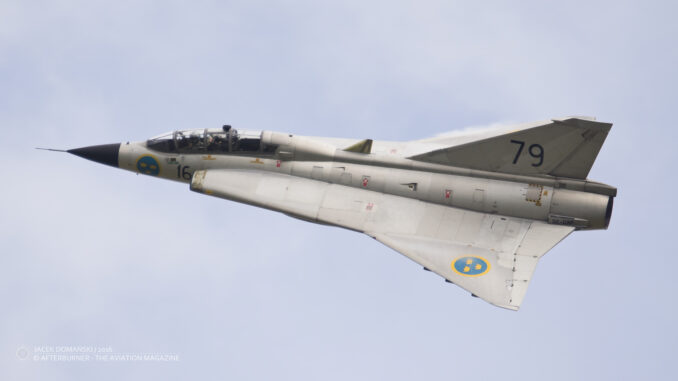 Svenska Aeroplan AktieBolag (SAAB) company is founded.
´Our country should manufacture its own weapons as much as possible. We have good shipyards and armouries but we have no production in the country for warplanes.´ These words – spoken by the Swedish Prime Minister, Per-Albin Hansson in 1936 – became a cornerstone of a new defence company, Svenska Aeroplan AktieBolag (Swedish Aeroplane Ltd.), that was founded next year.
In the beginning of 1930s, the Swedish Air Force inventory represented a complicated mix of aircraft, of different origin and quality. The fleet of biplane fighters included Bristol Bulldog, Gloster Gladiator, Fokker C. Vd aircraft, together with already obsolete Phönix D.III and Nieuport-Delage NiD 29. They were supported by a few domestic-made aeroplane, Svenska Aero Jaktfalken, introduced in 1930.
However, in the advent of the World War II and due to rapid development in aircraft design, it became clear that such fleet would fail to comply with the task of defending the Swedish airspace. Consequently, the Swedish government adopted an ambitious plan to acquire 297 modern combat aircraft and 95 training aeroplanes until 1943.
Nevertheless, purchasing negotiations being carried out at the eve of the war turned out to be both complicated and not satisfactory. They finally led to acquiring three new types of fighter aircraft – Fiat CR.42bis Falco, Reggiane Re.2000 and Seversky P-35, approximately 60 aeroplanes of each type – but they were below what was originally expected. As a result, a decision of supporting the domestic industry in creating and manufacturing Swedish-designed combat aircraft was made. This decision had a significant influence on further fate of SAAB company and the Swedish Air Force.
The creation of Svenska Aeroplan AktieBolag – SAAB was a result of cooperation and merges between several Swedish companies. Firstly, there was AB Svenska Järnvägsverkstäderna – ASJ (Swedish Railway Workshops Ltd.) that was founded in 1907 and in 1930 had created its aviation branch, named AB Svenska Järnvägsverkstädernas Aeroplanavdelning – ASJA. In 1937, ASJA and Bofors agreed on establishing a joint-venture company AB Förenade Flygverkstäder  – AFF, that then became one of SAAB shareholders. And there was also Electrolux Group that was involved in creation of SAAB, through its branch named Ab Ars.
SAAB 17 became the first aeroplane that was manufactured under the SAAB branch. In fact, this aircraft was already designed by ASJA, in response to the Swedish Air Force request from 1938. Its maiden flight took place in May 1940 and in two years the SAAB 17 was introduced into operational service in two basic variants – B 17 (bomber) and S 17 (reconnaissance).
Then, there was a SAAB 18, a twin-engine bomber and reconnaissance aircraft that completed its first flight in 1942 and became operational in 1944.
On 30th July 1943, one of the most interesting SAAB-made aircraft performed its maiden flight. It was a SAAB 21, a single-seat fighter and attack aircraft of really unusual appearance, due to be a twin boom pusher. It was successfully introduced in December 1945 and remained in service until 1954.
An upgraded, jet-powered variant of SAAB 21 was developed in 1945 and then serially manufactured since 1950 as SAAB 21R. It was one of only two aircraft in the world successfully being converted to jet from piston-powered design. Also around 1950, the company changed the way of spelling its abbreviation, from ´SAAB´ into ´Saab´, that is still being used today.
The jet era brought several interesting designs of Saab fighter aircraft. Tunnan, Draken, Viggen and Gripen were world-known aeroplanes and the latter also became an export success. Due to specific requirements from the air force, Swedish neutrality and military doctrine, and focus on being independent from foreign industry, most of the Swedish military jets were revolutionary in their own way. And moreover, also of a very interesting design.
Those abovementioned the fighter jets are the most recognizable Saab aeroplanes but they certainly were just a part of a Saab aircraft production. Among other designs by the company Saab 105 (a two-engine jet trainer) and Saab 340 AEW&C (airborne early warning aircraft) should be mentioned, together with MFI-15/MFI-17 (propeller-powered training aircraft), Saab 340 and Saab 2000 (both being a short range passenger aeroplane). The company is also developing and manufacturing unmanned aerial vehicles.
Moreover, during more than 80 years of its existence, the Saab company was (or still is) manufacturing cars, boats, radar systems, missiles and many other military equipment and management systems. Between 1968 and 1995, Saab was merged with an automobile manufacturer Scania-Vabis, and at that time was known as Saab-Scania.
Today, the Saab Group is one of the world-leading manufacturers of military equipment and one of the worldwide recognized defence companies. Its flag product – JAS 39 Gripen jet fighter, is operated by six air forces around the world (Sweden, Hungary, the Czech Republic, South Africa, Brazil and Thailand).
Pictured above is a preserved Saab SK35C Draken fighter, operated by the Swedish Air Force Historic Flight