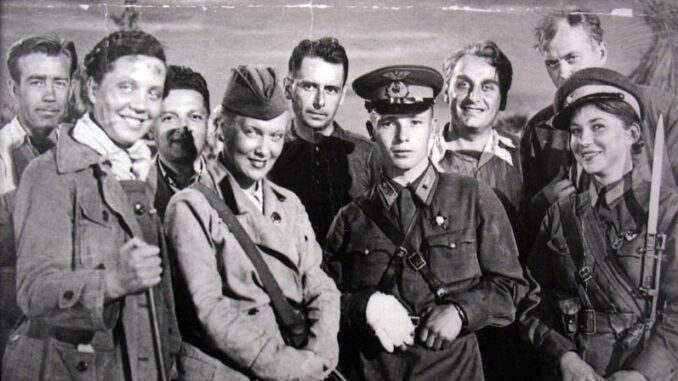 6 August 1941 – night-ramming of a German Heinkel He 111 bomber by V.V. Talalikhin.
Viktor Vasilevich Talalikhin (Виктор Васильевич Талалихин) was born on 18th September 1918 in Tepolvka village, near Saratov. In 1934, his family moved to Moscow. There, after graduating from school, young Talalikhin started his work at the Moscow Meat Processing Plant. Soon, he joined a flying club and over time made his first solo flight.
In 1938 Talalikhin joined the armed forces and completed his pilot training in the 2nd Military Pilot School at Borisoglebsk. The young aviator was then assigned to the 27th Fighter Aviation Regiment (истребительный авиационный полк – IAP) where he used to fly a Polikarpov I-153 fighter biplane.
Since November of 1939 the 27th IAP was involved in the Winter War and Talalikhin completed 47 combat sorties against Finnish aircraft. According to his biography, written in the 1960s by S.G. Utekhin, Talalikhin scored four victories during that war – three individual and one shared – and was awarded the Order of the Red Star.
When Germany invaded the Soviet Union, Talalikhin was assigned to the 177th IAP PVO (a fighter regiment of the Soviet Air Defence Forces in the Moscow area) and appointed there as a deputy commander of the 1st Squadron. On the night of 5/6 August, he shot down his first German aircraft, a Junkers Ju 88.
The following night, the young fighter pilot was again in the air, flying his Polikarpov I-16 fighter. When chasing a Heinkel He 111, Talalikhin had ran out of ammunition and decided to ram the enemy bomber. In consequence, both aircraft were destroyed, but the Soviet pilot managed to bail out and landed safely, being just slightly wounded.
As a result of his brave action, Talalikhin was immediately announced a hero and also the first pilot ever to ram enemy aircraft at night. He quickly became famous as one of the first Soviet air heroes of the World War II, was awarded the official title of the Hero of the Soviet Union and the Order of Lenin. Shortly thereafter Talalikhin was promoted to Squadron commander and started to fly with Mikoyan-Gurevich MiG-3 fighter.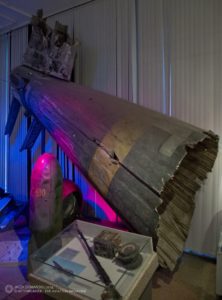 A few months later, on 27th October 1941, Talalikhin led a mixed formation of MiG-3 and I-16 fighters. In the area of Podolsk, his group was ambushed by six Messerschmitt Bf 109 aircraft. During an intense air battle that followed, Talalikhin reportedly managed to hit one or two German fighters, but finally was shot down and killed on spot.
Talalikhin was initially buried at Donskoye Cemetery in Moscow. In 1959, on occasion of establishing a Memorial to the Heroes of Moscow Defence at Novodevichy Cemetery, his ashes were moved there. A tail section of He 111 he rammed that night is being exhibited at the Central Armed Forces Museum in Moscow. Some parts of Talalikhin´s I-16 fighter were found and recovered in 2014 – they are on display in Domodedovo historical museum.
Although Talalikhin was officially recognized as the first pilot to ram enemy aircraft at night, he actually was not the first one. As soon as on 29th July 1941, Pyotr Yeremeyev used the same technique while ramming a Ju 88 with his MiG-3 aeroplane. Similarly to the famous hero, Yeremeyev survived the ramming and successfully parachuted from the damaged fighter.
Yeremeyev´s brave action was noticed by squadron commanders and he was nominated for the Order of Lenin. However, at that time his aviation regiment was enduring heavy fighting with enemy and soon was disbanded due to lack of airworthy aircraft. The documentation was lost during evacuation and shortly thereafter, Yeremeyev was killed in a dogfight and buried in an anonymous grave.
Only in 2020 Yeremeyev´s grave was found and his remains exhumed. And finally, 79 years after the ramming of Ju 88, he was posthumously awarded the Star of the Hero.
Nevertheless, it was (and still is) Viktor Vasilevich Talalikhin who became a symbol of aviation hero, flying for the defence of Moscow in 1941. His legend is still alive – streets named after that young pilot can be found in several Russian cities and there are several monuments and plaques related to Talalikhin, located all over the country. He was also commemorated in a few songs, postage stamps and there is even a gladiolus (iris flower plant) named after V.V. Talalikhin.
Cover photo – V.V. Talalikhin among the actors and actresses of the Soviet cinema, during making a documentary Боевой киносборник № 4 (Fighting Film Collection no. 4), in August of 1941 (Wikipedia, public domain)