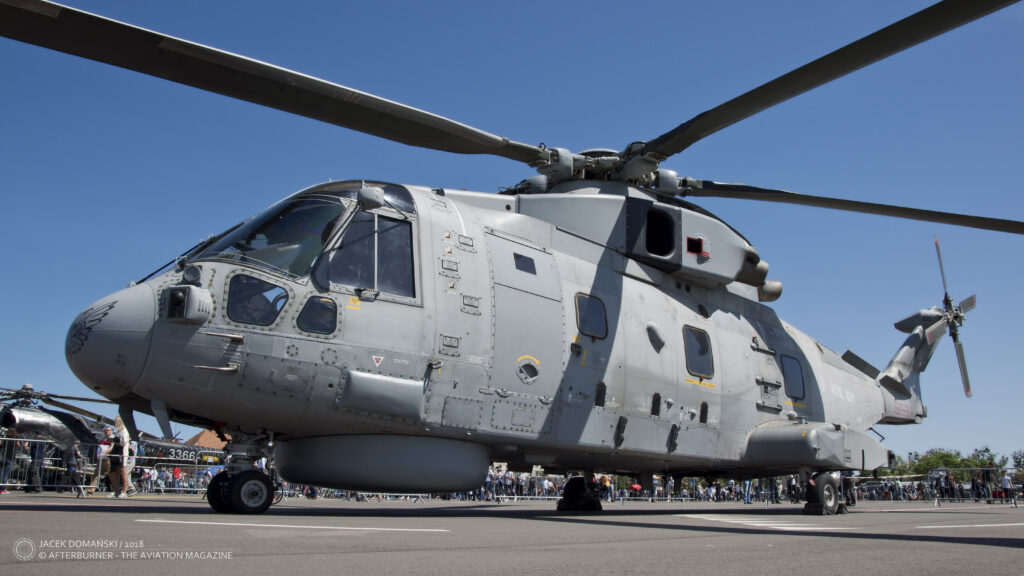 AgustaWestland AW101 / Merlin HM2 (c/n RN27/50111, ZH847, No. 814 Naval Air Squadron ´Flying Tigers´, Fleet Air Arm), static display during Poznań Air Show, May 2018.
The origin of the AW101 helicopter dates back to late 1970s, when both the Royal Navy and Marina Militare were searching for a new, modern anti-submarine rotorcraft. As a consequence, Westland and Agusta companies launched a joint development programme, done through a newly established company, named EH Industries Ltd.
The new rotorcraft, made as a result of British – Italian cooperation, for the first time was disclosed to general public in 1985, during the Paris Air Show.
Originally manufactured under the designation of EH101, the helicopter became operational in 1992. Apart from the initial anti-submarine warfare variant, the aircraft finally became a multi-purpose rotorcraft that finally was built in more than thirty variants, for both military, law enforcement agencies and civilian customers.
The EH101 is also known under many other names – in the UK, Denmark and Portugal, the helicopter is called Merlin; Canadian variants are designated CH-148/149 and Kawasaki-manufactured version is named MCH-101. In addition, after the merge of Westland and Agusta companies in 2007, the rotorcraft changed its official designation to AW101, still used until today by its current manufacturer – Leonardo Company.
Nowadays, the military variants of the AW101 are being operated by fourteen air and naval forces. Other versions can be found among several government and civilian customers. The Polish Navy is among the future operators of that helicopter, already awaiting delivery of four rotorcraft of a specially custom-made variant, combining anti-submarine and SAR version.
The AgustaWestland Merlin HM2 is an upgraded version of HM1 (the Royal Navy designation for AW111, anti-submarine warfare helicopter). The HM1 stands for Helicopter, Maritime Mark 1. The first Merlin HM1 was ready in 1997 and entered operational service in 2000. Starting 2014, all the Royal Navy helicopters were upgraded to HM2 version, equipped with new avionics suite, mission and optical systems, as well as an upgraded multi-static sonar. Apart from the anti-submarine missions, some of the HM2 rotorcraft are able to carry an airborne early warning pod.
The 814 NAS, nicknamed ´Flying Tigers´, was established in October of 2001. The squadron continues the tradition of former Royal Navy units with the same number, with their roots dating back to 1938.
The squadron is based at RNAS Culdrose in Cornwall and is equipped with Merlin HM2 anti-submarine variant, being the single largest operator of that particular type of helicopter within the Royal Navy. Over the years, the Merlins of the 814 NAS have participated in a few combat operations, including the Iraq War. The squadron was also performing maritime security operations during important sport events, like – for example – the London 2012 Olympics Games.