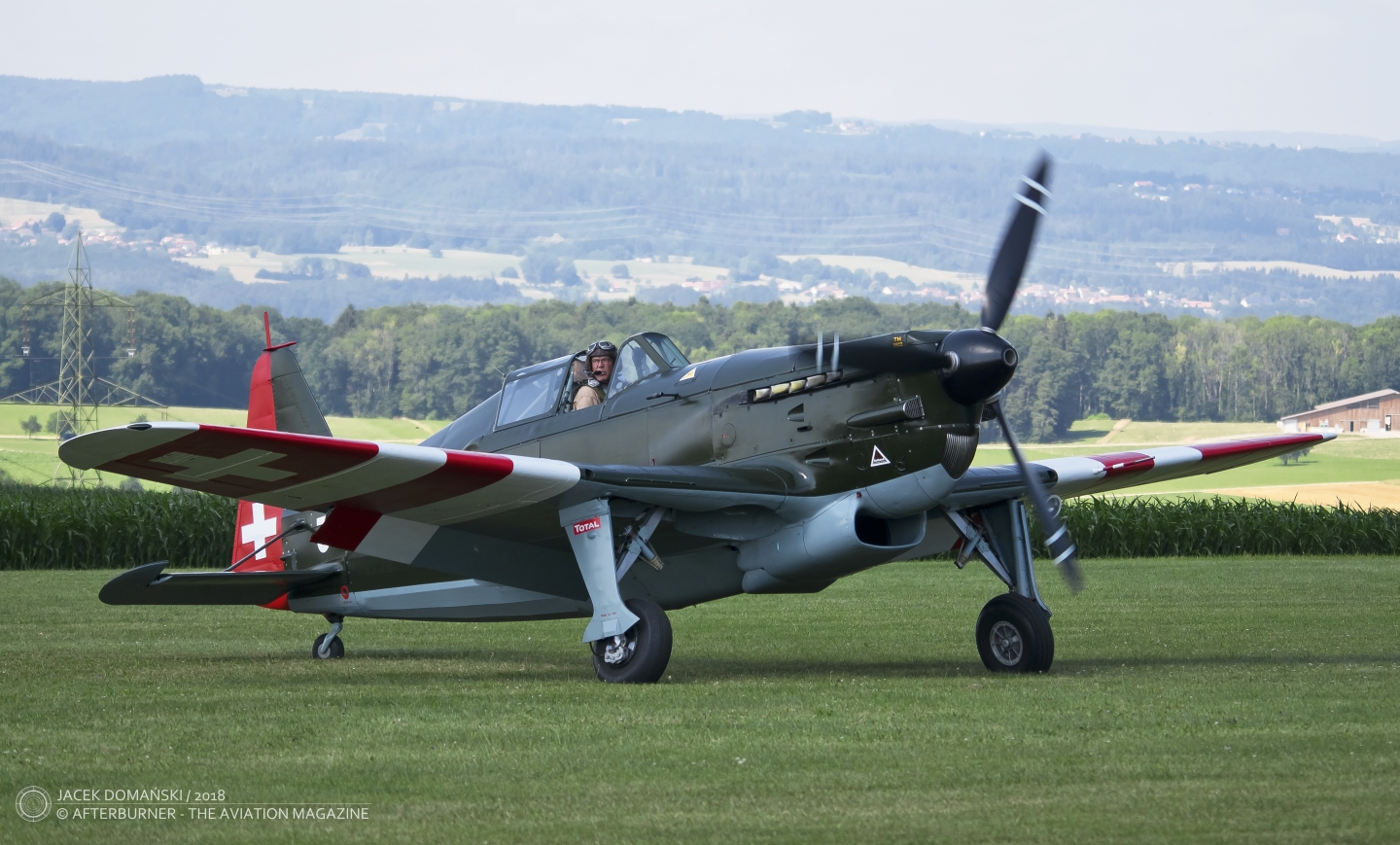 Dornier Werke Altenrhein D-3801 (Swiss licence-manufactured Morane-Saulnier M.S. 406), HB-RCF, during a display at Flugtage Schupfart, Switzerland, in June/July 2018.
Morane-Saulnier M.S. 406 was the first modern fighter aircraft of the French Air Force, introduced in 1938. Although being soon overperformed by the later designs, this neat and manoeuvrable fighter was in active service until the end of the war (operated by Finland and Switzerland).
Switzerland acquire the license rights for manufacturing M.S. 406 already in 1938. Two first aircraft were delivered from the Morane-Saulnier factory and then the production started in the local EKW plant. As the original M.S. 406 were considered being underpowered, in the Swiss variant they were replaced by Saurer engines. D-3800, as the Swiss fighter was designated, received also the local-manufactured instruments and armament. In total, approximately 80 fighters were built until 1940.
After the June 1940 Armistice, the cooperation with Morane-Saulnier was ceased and the Swiss aviation industry continued alone with the further development of D-3800. Three new variants were proposed, although only the first one – D-3801, achieved the serial production status. Manufactured by Dornier Werke in Altenrhein, D-3801 was powered by licensed Hispano-Suiza 12Y-51 engine and almost 220 fighters were built until 1948.
Swiss D-3801 were operational until 1959, in their initial role of a fighter until 1948 (when they were replaced by P-51 Mustang) and then as a trainers and target tugs.
In 1965, an aviation enthusiast, Hans-Ruedi Dubler, recovered a wreck of D-3801 from the children playground in Saint-Imier. Most probably, it was a former Swiss Air Force ´J-246´ aircraft. After a few years, he managed to acquire the parts from three other fighters – ´J-84´, ´J-276´ and ´J-143´.
The reconstruction of D-3801 to the airworthy status lasted more than 10,000 working hours and could not be finalized without the assistance of several other local aviation enthusiasts. For the first time, the re-born D-3801 ´J-143´ ran its engine in the middle of 1998. Dubler operated the fighter for a short time, but it turned out to be too difficult to maintain. As a consequence, D-3801 was sold to Eric Chardonnens, pilot and aviation enthusiast from Lausanne.
Within the Morane Charlie Fox Association established for the purpose of keeping ´J-143´ airworthy, the D-3801 become a true star of the Swiss and European air shows. And it was another Swiss aviation enthusiast, experienced pilot and aviation mechanic, Daniel Koblet, who was taking care of this unique aircraft.
However there were more than 1,100 fighters manufactured in France and other countries, the D-3801 ´J-143´ is currently the sole airworthy aircraft from the M.S. 406 family. For almost twenty years, Daniel Koblet flew this unique fighter, not only visiting several aviation events all over the Europe, but also participating in a few movies.
Despite the age of the airframe and further limitations of the vintage design of M.S. 406, Daniel´s flying displays were really exceptional, emphasizing the excellent manoeuvrability of the French fighter.
The current season wasn´t supposed to be different, with several displays for ´J-143´ already scheduled. In addition, the Swiss press reported that Daniel Koblet retired from his own aviation workshop and was going to enjoy his passion for flying.
Regrettably, on 14th January 2020, Daniel Koblet passed away, after a short and sudden illness.