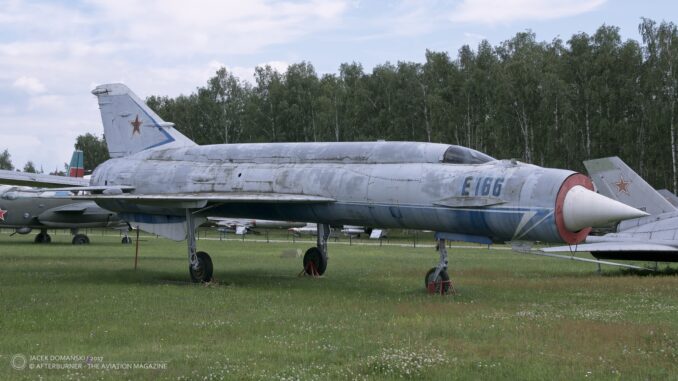 Mikoyan-Gurevich Ye-152 experimental interceptor aircraft, Central Air Force Museum in Monino, July 2017.
In the mid-1950s, the Soviet air defence forces were in a desperate need of modern interceptor aircraft. The perfect air defence fighter should be able to operate in any weather conditions, exceed twice the speed of sound and to have a very high rate of climb. All those requirements were formed due to an increased threat caused by NATO bomber aircraft. At that time being already supersonic and able to unexpectedly appear close to the Soviet Union airspace.
in order to meet those requirements OKB-155 construction bureau (Mikoyan) focused on development of a heavy, all-weather aircraft, intended to be a part of national air defence ´Uragan´ (Ураган, English: hurricane) complex and perform an automatic interceptions. Initially, there was a I-3 family that started with so-called ´frontline fighter´ I-380, followed by I-410 and I-420 interceptors. In general, they all were resembling MiG-19 – the latest fighter made by Mikoyan bureau, that performed its maiden flight in 1952. However, they were designed for a new, more powerful VK-3 engine with afterburner, since 1949 being developed at Klimov construction bureau.
In March 1956, due to delays related to the VK-3 development, the Soviet authorities ordered the OKB-155 to work on alternative interceptors, to be powered by AL-7F engine from Lulka bureau. In this way, a prototype of I-7 fighter was developed at Mikoyan, followed by its heavier version, I-75. All those aircraft were intensively evaluated and successively modified, but still they were not the fighter the air defence was dreaming of.
A significant change came in 1957, with s new heavy interceptor designed at OKB-155 and being known as Ye-150 (Е-150). In this prototype, the swept wings originated from MiG-19 design were for the first time replaced by delta-wing system being attached to a tubular-shape fuselage of 1,600 mm diameter. The aircraft was expected to achieve the three times speed of sound, which opened a completely new stage of aviation development – as well as numerous questions related to metallurgy, aerodynamics, temperatures and physics of high-speed flying.
It took over six months of tests on the ground until Ye-150 performed its maiden flight, on 18th January 1961. During evaluation flights the prototype of high-speed interceptor achieved the top speed of 2,890 kph (2.65 Ma), ceiling of 22,500 metres and an exceptionally high climb rate was reported.
Despite such achievements, the Ye-150 had one important problem and it was the engine. At the beginning, problems with development of R-15-300 engine caused an 18-month delay in Mikoyan´s heavy interceptor programme. And when the engine was considered ready, its endurance turned out to be too low – with only about 40 flights being completed by the prototype, the engine had to be replaced three times. Although it seemed that the Ye-150 was finally the aircraft being awaited by the Soviet air defence, the lack of reliable engine made it impossible to put this interceptor into a serial production.
Parallel with evaluation of the Ye-150, OKB-155 designed a few other variants of this aircraft, being designated Ye-151, Ye-152-1 and Ye-152-2. They differed from the basic aircraft only by small changes in tail section and variety of armament systems.
In 1961, the prototype designated as Ye-152-1 was taken out from the interceptor evaluation programme and has been declared to FAI under a fictional designation ´Ye-166´ (Е-166). It was then used to show the world the abilities of the Soviet aviation design – and send a warning notice to NATO countries. Within a year, the ´Ye-166´ set up three official world aviation records: speed on a closed circuit of 100 kilometres – 2,401 kph; top speed on a defined distance – 2,681.7 kph; altitude in a horizontal flight – 22,670 metres. Russian sources also indicate that the absolute top speed achieved by Ye-152-1 during one of the test flights exceeded 3,000 kph.
Despite all those exceptional achievements, the entire programme of high-speed interceptor at OKB-155 was finally closed in 1962, due to lack of reliable engine. The same destiny met its direct competitor, T-37 interceptor from Sukhoi bureau. Only the heavy fighter developed by OKB-156 (Tupolev) and designated Tu-128 made it into serial production, although being powered by two AL-7F-2 engines. Also in 1962, due to several delays in development of its components and complexity of the programme, works on ´Uragan-5´ air defence system were abandoned.
Nevertheless, the experience acquired by OKB-155 during development and evaluation of heavy interceptors within the ´Uragan´ project has shortly thereafter resulted in creation of MiG-25 supersonic interceptor.
And returning to the aircraft pictured on the photo – although it carries the ´Ye-166´ marking, it is not a record-breaking Ye-152-1 aeroplane. In fact, this is its sister prototype, initially designated Ye-152-2 and lately Ye-152M. This aircraft was being used for testing missiles and radar equipment, that were components of ´Uragan´ system.
After closing this programme, the Ye-152M prototype was exhibited at Domodedovo aviation show (already marked as the record-breaking 'Ye-166') and later it was handed over to Monino museum, where it can be seen until these days.