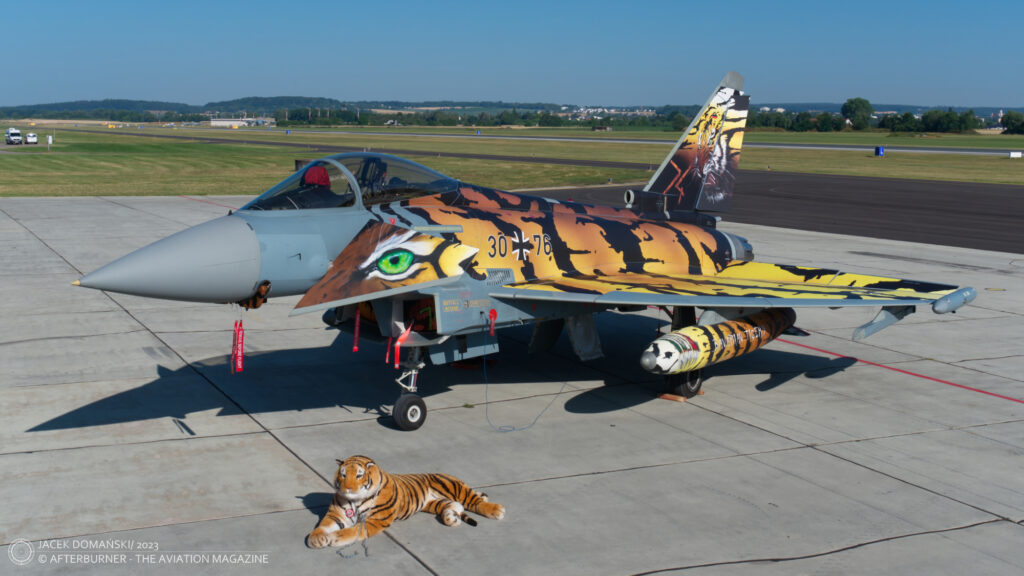 Eurofighter EF-2000 Typhoon (c/n GS057, 30+76 of Luftwaffe / the German Air Force), static display during spotterhour at Mini Tiger Meet 2023, Neuburg a.d. Donau, July 2023.
On 6th July 2023, during ´family day´ organized at Neuburg air base, Taktisches Luftwaffengeschwader 74 (English: 74th Tactical Air Force Wing) revealed its new ´Tiger livery´ designed for this year´s NATO Tiger Meet – to be held between 2nd and 13th October in Gioia Del Colle air base, Italy.
The ´74 TIGER´, as the current livery is called, was created to celebrate the tenth anniversary of full membership of TaktLwG 74 in the NATO Tiger Association. On 18th March 2013, during a solemn ceremony organized at Neuburg air base, the unit officially took over the Tiger Spirit tradition from disbanded Jagdbombergeschwader 32, thus becoming the member of the Association and adopting the name ´Bavarian Tigers´.
The current and – let us not be afraid of the word – amazing incarnation of the Bavarian Tiger continues the long tradition of creative and eye-catching TaktLwG 74 liveries. It is enough to recall here the legendary ´Bronze Tiger´ from 2014, ´Cyber Tiger´ introduced in 2016, or ´Ghost Tiger´ made for the 2018 edition of the NTM.
It should be noted that TaktLwG 74 underlined the aforementioned tenth anniversary of membership in the Tiger Association by organizing a ´Medieval´ Mini Tiger Meet at Neuburg air base. It also included a special event for spotters, held on 7th June and featuring aircraft of the Bavarian Tigers and some other participants of the meeting.
If you want to learn more about TaktLwG 74 and its history, please check our article issued in May of 2021, on the 60th anniversary of the unit. Some additional information about the Eurofighter and the Bavarian Tigers can be also found here, in another article from Photo of the Week series – this time featuring ´Atlantic Tiger´ from 2017.
Our report from the spotter event at Mini Tiger Meet will be issued soon, so stay tuned!