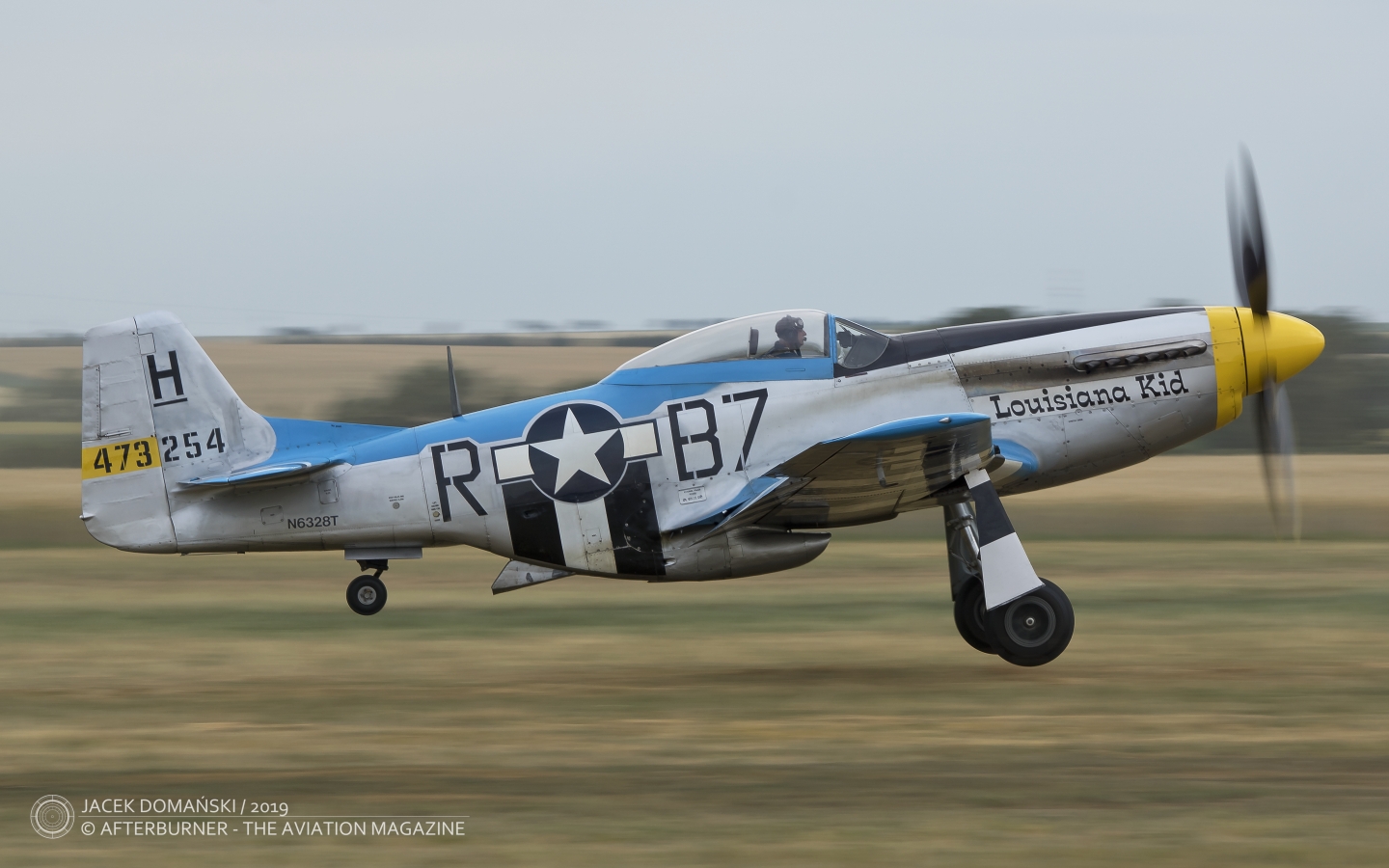 The P-51D Mustang, owned by Wilhelm Heinz from Germany is a frequent participant of the European air shows – only in June 2019, the ´Louisiana Kid´ could be seen in Stalowa Wola, Katowice and Roudnice nad Labem. And this is exactly Roudnice air show, where this photo was taken on 22nd June. The picture is showing the P-51D Mustang at the take-off for the BALBO formation flight, during the 2019 edition of the Memorial Air Show.
The aircraft 44-73254, today better known as ´Louisiana Kid´ was manufactured in the 1944 at North American Aviation in Inglewood, California and after a very brief assignment to USAF was then transferred to RCAF in June 1947, where it served as ´9571´ until 1957. Bought by the private owner James Defuria and registered as N6328T (the registration it carried ever since), the Mustang was firstly stored in Canada, then changed a few owners within the USA.
Then, on 31st May 1963 the 44-73254 crashed, and the following restoration lasted several years. During the re-build process, the Mustang was sold to a private collector, Don Weber, who finished the restoration works. In 1978 the P-51D was airworthy again, carrying the name ´Buster´ and painted as the interpretation of the 361st FG scheme – B7-R.
Don Weber owned the Mustang for more than 30 years, offering it for sale in 2012, as ´Yankee Trader´. The aircraft was bought by Wilhelm Heinz (at that time the captain at AirBerlin airline) and his ´Heinz Aero´, based at Albstadt-Degerfeld, Germany. As the P-51D was based in Baton Rouge, Louisiana, for many years, the new owner decided to rename the Mustang as ´Louisiana Kid´.
The first flight of this P-51D in Europe, piloted by Wilhelm Heinz himself, took place on 1st May 2013. And since that time the ´Louisiana Kid´, and its owner, are bringing the aviation fans the joy of seeing (and hearing) this famous Mustang warbird at the European air shows.