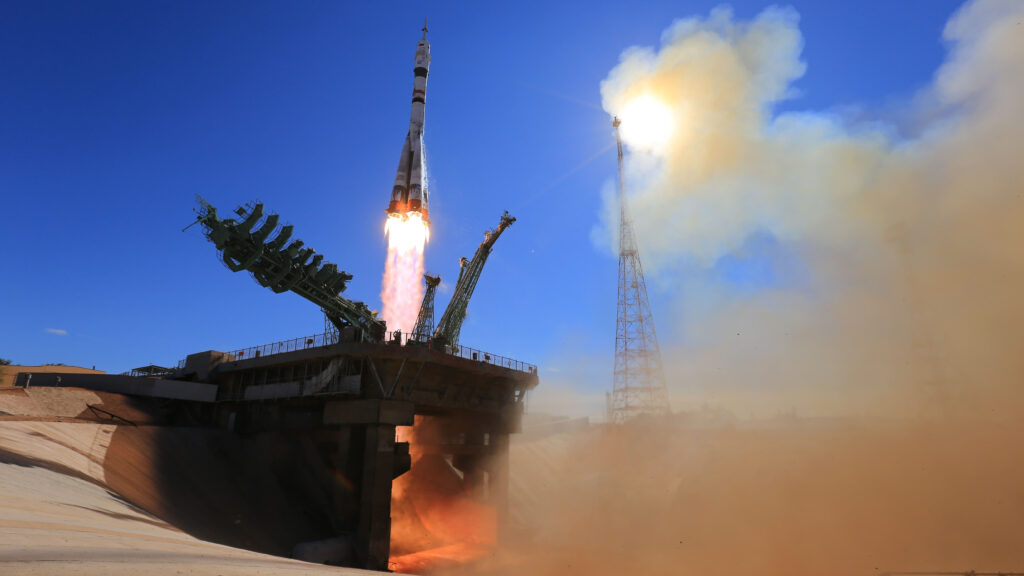 On Tuesday, 5th October 2021, at 08:55:02 UTC, ´Soyuz-2.1a´ carrier rocket launched successfully with ´Soyuz MS-19´ spacecraft. Its crew consisted of three people – cosmonaut Anton Shkaplerov (´Soyuz MS-19´ crewed spacecraft commander and ISS-66 mission commander, Roscosmos), spaceflight participant Klim Shipenko (film director, screenwriter, actor and producer) and spaceflight participant Yulia Peresild (stage and film actress). Therefore, for the first time in history of space flights, a film crew is participating in the manned mission, with the objective to make a docudrama, feature-length film aboard the International Space Station.
Already in the beginning of 2020, the first rumours about a featured film to be partially made in outer space have appeared in media. Nevertheless, they were concerning a famous American actor, Tom Cruise, who was apparently planning such a space venture. Eventually, that information was then acknowledged by NASA Administrator Jim Bridenstine, who – on his Twitter account – has officially confirmed that discussion with Tom Hanks was really ongoing.
As Bridenstine stated on Twitter, ´popular media are needed to inspire a new generation of engineers and scientists to make NASA´s ambitious plans a reality´. Shortly thereafter, American media disclosed that in order to make that dream come true, Hanks and NASA were working together with Elon Musk and his SpaceX company. The first so-called ´space-movie´ had to be an action adventure, although not related to Hanks´ famous ´Mission: Impossible´ series.
Later in 2020, it was specified that Tom Hanks would go to space next year. Hanks, together with film director Doug Liman, were mentioned as ´Tourist 1´ and ´Tourist 2´ for a SpaceX crewed mission planned for October 2021.
Unexpectedly, in November of 2020, the Russian space agency Roscosmos has announced its own project of the ´space-movie´. At the same time launching a nationwide search for new film stars who themselves would be able to go to the real stars.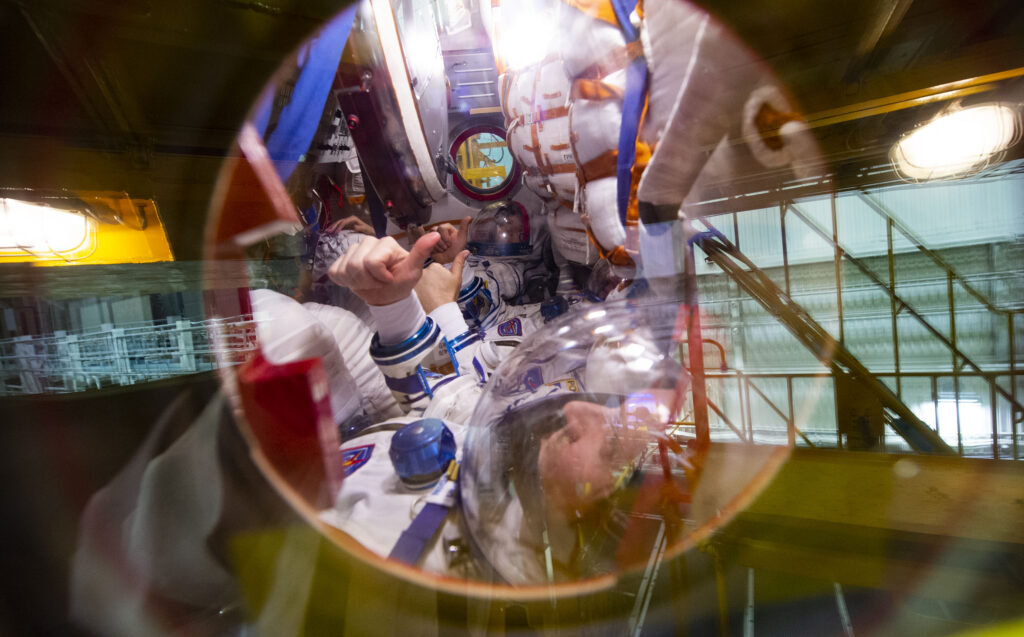 It was unveiled that lead character would be a female and additionally a set of health requirements was announced. According to Roscosmos, more than 3,000 candidates had applied and have been carefully examined.
Finally, a thirty-six-year old professional actress Yulia Peresild and one year older film director, actor and producer Klim Shipenko were chosen. Peresild is active on stage since 2005 and has an impressive filmography of approximately sixty featured and TV films. Shipenko is also an experienced film maker and actor, his works include ´Salyut-7´ space drama based on a ´Soyuz T-13´ space mission (as director and actor), ´Text´ psychological drama based on Glukhovsky´s book (as director) and a crime thriller ´December´ (as director and screenwriter).
The backup crew for the ISS-66 mission was also chosen. They were cosmonaut Oleg Artemyev (´Soyuz MS´ crewed spacecraft commander, ISS flight engineer), spaceflight participant Aleksey Dudin (a film-maker, known from his works on biographical drama ´Kalashnikov´) and spaceflight participant Alyona Mordovina (an actress, known from several Russian films and TV-series).
Both main and alternate crews had to complete the full cosmonaut training at the Yuri Gagarin Cosmonaut Training Centre, although under an expedited procedure, and successfully pass their final medical exam.
´The Challenge´ (Вызов), as the first ´space-movie´ was called, tells a story of a cosmonaut who lost his consciousness during a space flight. Following a decision made by medical board, a heart surgery must be performed onboard the spacecraft, in zero gravity conditions. A woman heart surgeon (Peresild) was chosen to fulfil this task and is preparing for that dangerous and challenging mission. According to official statement by Roscosmos, ´The Challenge´ has to popularize Russian space activities and cosmonaut profession.
Nevertheless, the idea to launch another ´space race´, this time focused on making the first featured film in outer space, has received severe criticism, both inside and outside Roscosmos. The most common allegation addressed to Dmitry Rogozin, head of Roscosmos, was wasting public money and causing delays in professional space mission schedule.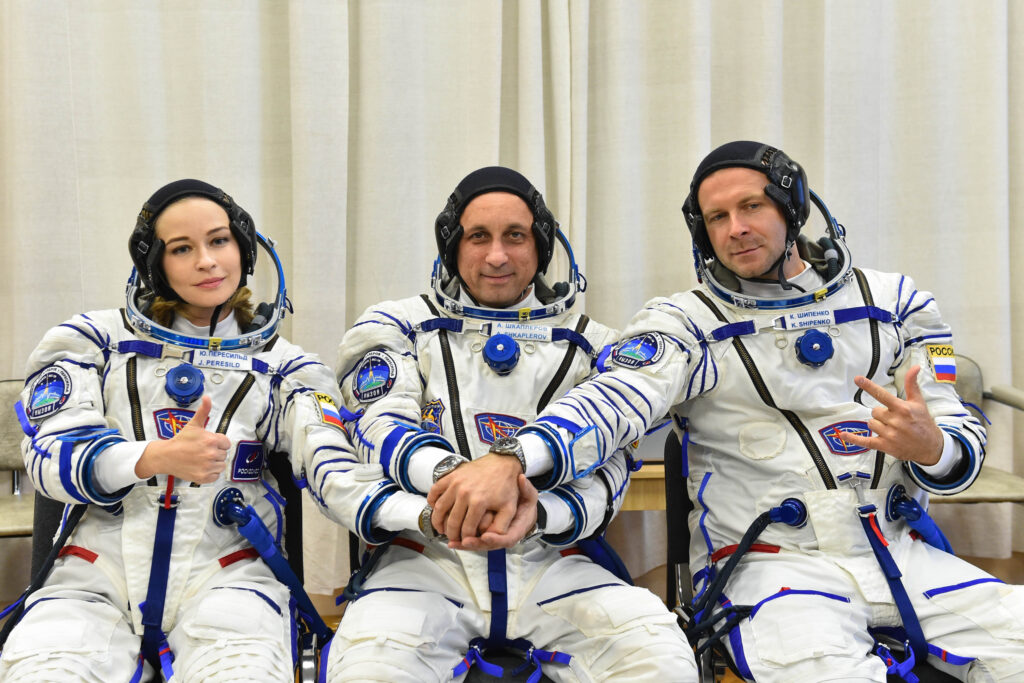 In the meantime, Hanks´ venture faced some unexpected, however not disclosed, problems. Although SpaceX is currently recording several milestones in space exploration and celebrates one achievement after another, the Hollywood film crew is still not considered among ´space tourists´ in the nearest future.
While SpaceX launched its manned flights to the ISS in May of 2020 and the first all-civilian mission to orbit followed in September, it was vain to look for Hanks or Liman among the space crews. Their flight to make a featured film aboard the space station was initially postponed to March 2022 and was planned for Axiom Mission 1, but shortly thereafter it was unveiled that two investors related to the Axiom Space company are the ones to participate in the AX-1 manned flight.
Then the space flight of the American film crew was delayed again and information released in 2021 mentioned that they would join consecutive mission. Nevertheless, SpaceX has already informed about their crews for the three next flights planned for February – October 2022, without mentioning neither Hanks nor Liman. The nearest two empty slots for the ´space tourists´ are available only in AX-2 mission, planned for October 2022. However, there is no confirmed news regarding the ´space-movie´ project by Tom Hanks and its current status is unclear.
Does it mean that the Russian film crew would succeed in releasing the first ever feature-length film made in outer space? The chances are high, at this very point. Obviously, filming the story is usually just an initial stage and additional time is needed for post-production. However it seems that one-year delay that Hanks´ project had been subjected, created a perfect opportunity for the Russians. The opportunity that they are not planning to waste.
The first shots of ´The Challenge´ were already taken on 5th October, during the launch of ´Soyuz MS-19´. It is also expected that at least thirty minutes of the film will be made at the International Space Station. The film crew is expected to return to Earth on 17th October, together with another cosmonaut Oleg Novitsky.
In conclusion, it should be mentioned that ´The Challenge´ is not the first narrative fiction film to be made in space. In 2008, a short science fiction ´Apogee of Fear´ was filmed aboard the ISS and then released in 2012. Nevertheless, it´s just an eight-minute long film study.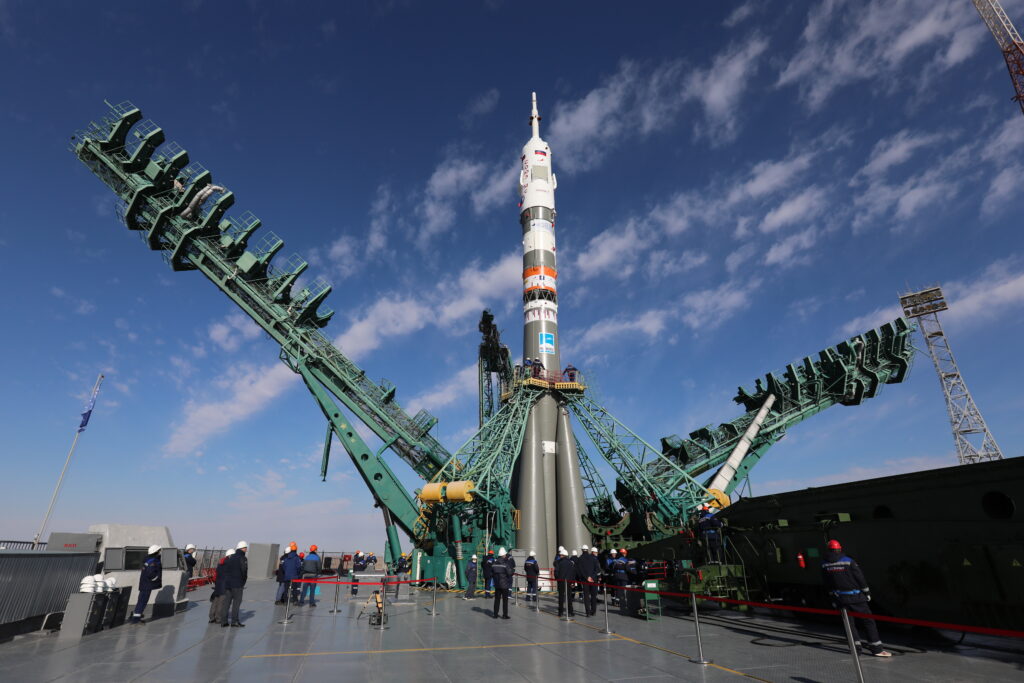 All photos © State space corporation Roskosmos, including the cover photo (Soyuz-2.1a goes into space). Information from Roskosmos press releases were used.