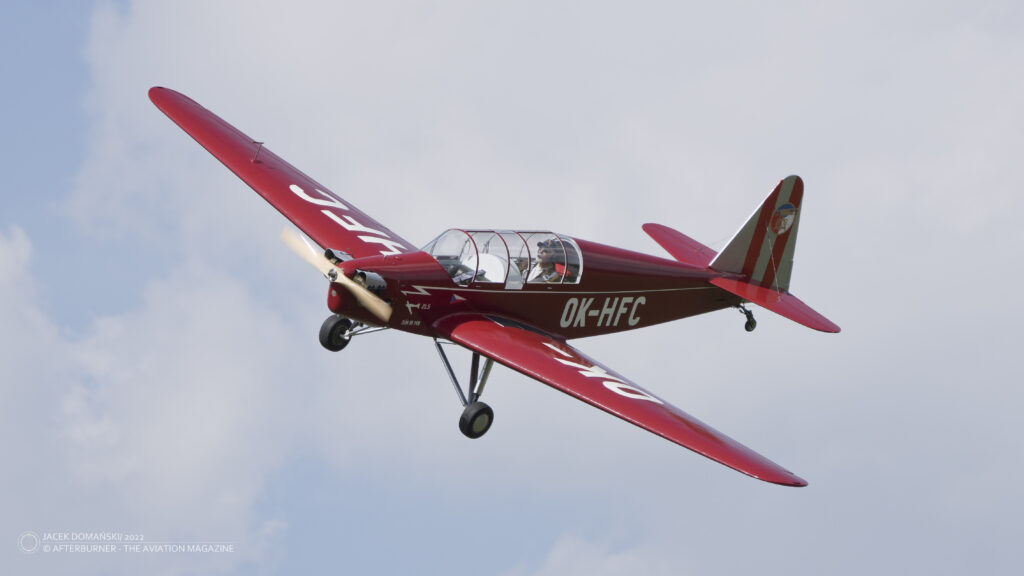 Zlín XII (replica of c/n 149 ´OK-IPS´, OK-YUU 81), performing a flying display during Den ve vzduchu s Plzeňským krajem air show, Plasy, April 2022.
The story of Zlin – probably the most widely known Czech aviation brand, began in the early 1930s. The company was found in Otrokovice, under the name of Zlínská letecká společnost, a. s. (Zlín aviation joint-stock company) and among its major shareholders there was – no less famous – Baťa shoe company.
Initially, the Zlín company was focused on manufacturing of gliders but after a few years entered the market of light, sport and training aircraft. The aeroplane designated Zlín-XII is considered as the most successful one, being among the most popular training and sport aircraft of the late 1930s.
The Zlín-XII was created by Jaroslav Lonek, an aircraft engineer who worked as a chief designer for Zlín between 1935 and 1938. The aeroplane was based on his earlier design – Lonek L-8 Ginette – and became domestic and international success.
In April of 1935, the Zlín-XII performed its maiden flight, at that time powered by Continental A-40-2 engine. It was shortly succeeded by locally-made Persy I powerplant, being practically a copy of the Continental engine. In addition, the second prototype of the aircraft was tested with Czechoslovak-built Walter Mikron engine.
Serial production of the Zlín-XII was launched in October of 1936. The early aircraft of that type were powered by the abovementioned Persy I engine, generating 37 hp, but shortly thereafter it was replaced by more powerful Persy II with the power of 47 hp.
The new aircraft was presented at several international aviation fairs, including the 15th Paris Air Show, Brussel aviation show and the 3rd National Aviation Fair in Prague. The Zlín-XII had captured the international interest and soon became an export success. The aeroplane was used in several European countries but also acquired by customers in Japan, Brazil, Egypt or South Africa.
The Zlín-XII was widely used as a sport aeroplane, achieving many successes in numerous aviation competitions. Already in 1936, pilots flying the Zlín-XII have won two domestic contests – První letecký okruh Moravou (the 1st Moravian aviation circuit) and Štefánikův memoriál (Memorial of Štefánik). In 1937, the Czechoslovak aeroclub sent two Zlín-XII aircraft to Egypt, to participate in the International Circuit of the Oases there. The aeroplane from Otrokovice was placed seventh, out of 42 competitors. Nevertheless, no less interesting is the route both Zlín-XIIs completed, flying to Egypt from Italy, through the Mediterranean Sea, Tunis and Tripoli, as well as their way back via Palestine, Syria, Turkey and Romania.
In the same year of 1937, the Zlín-XII set two international FAI records in C (light aircraft) category of the maximum flight speed on the route of 100 and 1,000 kilometres. The Czechoslovak aeroplane managed to reach 113,845 kph and 109,433 kph, respectively.
A total number of 201 Zlín-XII aircraft was made until 1939, as well as approximately 50 examples of upgraded variant, powered by Walter Micron II engine and designated Zlín Z-212.
The aircraft pictured within our Photo of the Week series was made as 1:1 scale replica, although slightly modified to meet the requirements of current regulations. In addition, some original parts and materials were replaced by modern equivalents, although it preserves the shape and characteristics of the original Zlín-XII aeroplanes. Due to lack of availability of original Persy engines, the replica is powered by Continental A80.
The replica represents the original aircraft with c/n 149, that was made in 1947 and then flew in Czechoslovak Aeroclub with registration OK-IPS. However, as made at Historical Flying Club in Mladá Boleslav, the Zlín-XII replica is currently flying with fictional OK-HFC code (and real registration OK-YUU 81).
That newly-build Zlín-XII performed its maiden flight in 2020 and then became another replica of historical aircraft operated by Letecké muzeum Metoděje Vlacha (Metoděj Vlach Aviation Museum) in Mladá Boleslav.