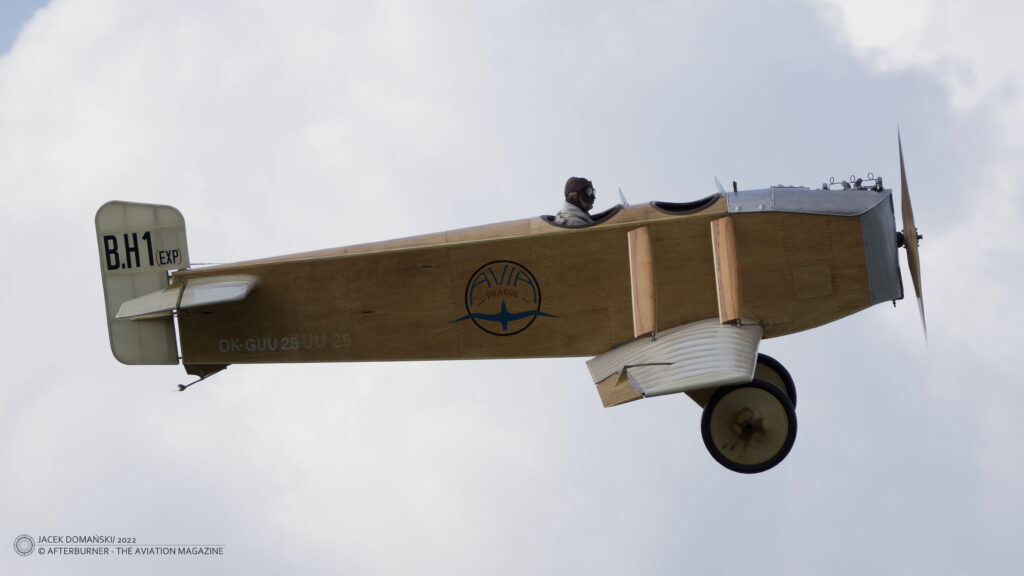 Avia BH-1 (airworthy replica, OK-GUU 25 ), flying display at Den ve vzduchu s Plzeňským krajem air show, Plasy, April 2022.
On 19th June 1919, two Czech engineers, Pavel Beneš and Miroslav Hajn, founded an aviation company they named Avia – dílna na opravu a výrobu letadel (Avia – workshop for maintenance and manufacturing of aircraft). The company had its seat in Vysočany (now a district of Prague) and started with just eight employees.
The first aeroplane developed by Beneš and Hajn was a small, experimental two-seat sports aircraft, designated B.H.1 (aka BH-1). It was a very interesting design, based on gliders they made before the Great War. Created in the middle of ´biplane era´, the aeroplane that opened history of Avia brand, was a low-wing braced monoplane of wooden construction. On 13th October 1920, the BH-1 performed its maiden flight, flown by Josef Novák, company test pilot. Shortly thereafter, the aircraft was presented to general public at international aviation fair held in Prague, as the very first monoplane designed in Czechoslovakia. It would not be surprising that the BH-1 had generated a lot of interest and finally won the company a cash prize from the President of Czechoslovakia.
Nevertheless, it soon became clear that the BH-1 was underpowered. The aeroplane was initially equipped with Austro-Daimler four-cylinder engine with approximately 30 hp and that was merely not enough to fly with two people on board. As a consequence, the Austro-Daimler was replaced by Gnome 7 Omega, a rotary engine with seven cylinders, generating 48 hp. The aircraft was re-designated BH-1 bis and performed its maiden flight on 20th May 1921.
In October of the same year, the BH-1 participated in the first significant domestic aviation rally, the national cross-country around Czechoslovakia. During that rally, the aeroplane smoothly covered a route of 850 km and received no penalties, thus became winner in so-called ´travel ability´ category.
In 1922, the BH-1 was shown at an air show in Plzeň and later participated in a military exercise. During one of the landings performed at that exercise, the aircraft was damaged and – due to company resources being at that time focused on developing new aeroplanes – it was decided not to repair the BH-1.
The second life of the BH-1 started in 1997, when pilot and aviation enthusiast Marcel Sezemský launched a project of building an airworthy replica of the aeroplane. After a long and hard process of reconstruction, the new BH-1 performed its maiden flight in 2001.
The replica of the first Avia aeroplane is powered by Walter Mikron, a Czechoslovak aviation engine from the 1930s. The aircraft complies with the UL rules and, unlikely the original BH-1, can be operated from both seats.
The replica of BH-1 is a frequent participant of domestic – and sometimes even international – aviation events, usually arousing great interest of their visitors. The aeroplane is being based at Točná airfield in Prague and is a part of aviation collection located there.