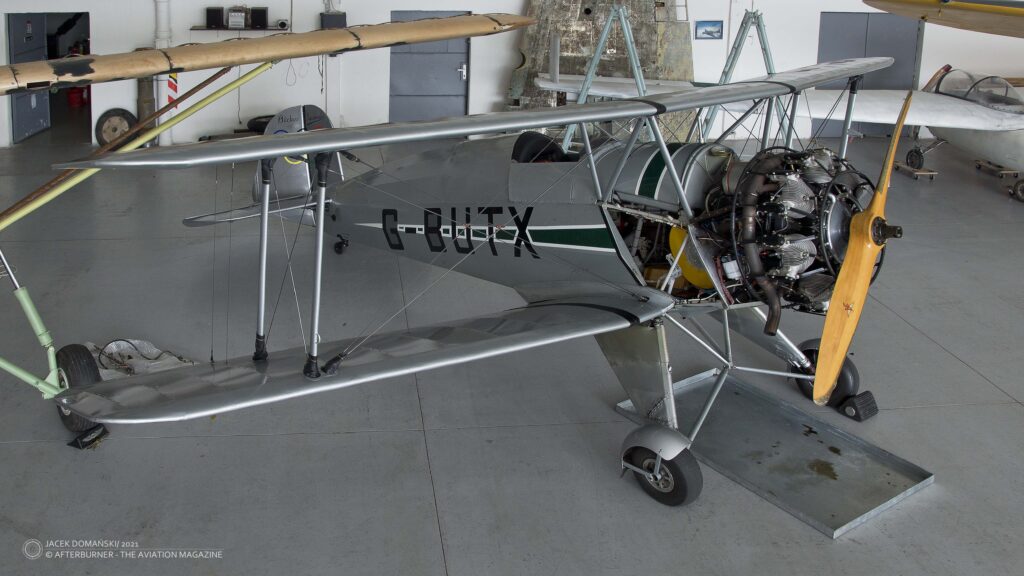 Bücker Bü 133C Jungmeister (c/n 1010, G-BUTX), exhibited at Hangar 3 of the Classic Trainers association, Plzeň-Líně airfield, October 2021.
At first, there was a Bücker Bü 131 Jungmann (Engl.: freshman, young man), the first aircraft designed and produced by Bücker Flugzeugbau GmbH aviaton company that was founded in 1932, in Berlin-Johannisthal.
The company was established by Carl Clemens Bücker, a former officer of Kaiserliche Marine (Imperial German Navy). When the Great War ended, Bücker went to Sweden and became a test pilot for the Swedish naval aviation, officially working for its torpedo department in Stockholm (Torpeddepartementet på flottans varv i Stockholm).
While staying in Sweden, Bücker never lost his touch with German aviation industry. In 1921, together with Ernst Heinkel, he was involved in re-establishing of Caspar-Werke aircraft manufacturer. Nevertheless, issues connected with the Treaty of Versailles and consequential limitations prompted Bücker and Heinkel to move Caspar´s production facilities to Sweden, where they have founded a company named Svenska Aero AB – Bücker became its CEO and the only board member. Although the production plant was officially located in Sweden, majority of the aircraft components were still secretly manufactured in Germany and then just finally assembled at Svenska Aero.
Next year, Heinkel ended that cooperation and left Caspar-Werke. Bücker stayed in Sweden until 1932, when he sold Svenska Aero to AB Svenska Järnvägsverkstädernas Aeroplanavdelning, commonly known as ASJA. After selling his company, Carl Bücker returned to Germany, taking with him a young, but capable aircraft designer, A. J. Andersson.
On 24th April 1934, the first aircraft designed by Andersson for Bücker Flugzeugbau GmbH, performed its maiden flight. It was Bü 131A training biplane, with two open cockpits in tandem configuration and fixed landing gear.
The aircraft was initially acquired by the German Air Sports Association (Deutscher Luftsportverband), an organization established by the Nazi Party with aim to train future military pilots. Subsequently, the Bü 131 became the primary basic trainer of the Luftwaffe, exported to several European countries and built under licence in Switzerland, Czechoslovakia, Japan and Spain.
Following on from their successful Jungmann, Bücker and Andersson created its more powerful variant – a bit smaller, single-seat advanced trainer with impressive aerobatic capability. It was designated Bücker Bü 133 Jungmeister (Eng.: young master) and performed its first flight on 21st August 1935, flown by Luise Hoffman – the first woman test pilot in Germany.
The first A and B variants of Bü 133 were powered by Hirth HM506 inline engines, generating 140 and 160 hp, respectively. In 1937, the most known and most successful version was introduced, designated Bücker Bü 133C and powered by Siemens-Bramo Sh 14A radial engine.
The first official presentation of the new trainer was held during the International Aerobatic Championship of 1936, organized at Rangsdorf, Germany. The Bü 133 was noticed, it received a warm reception but regrettably no purchase orders followed.
It took quite a while until outstanding performance of that biplane were acknowledged. Nevertheless, when it finally happened, the Bü 133 quickly gained an enormous popularity among aerobatic pilots. Its variant powered by the radial engine has won several international competitions and participated in aerobatic shows in Europe and the USA.
In 1938, the Jungmeister became the official advanced trainer of the Luftwaffe. More than 50 aircraft were bought by other air forces from all over the world, including South Africa, Japan, Brazil or the Soviet Union. Additionally, the Bü 133 was also manufactured under licence in Switzerland (by Dornier) and Spain (by CASA, as 1-133). Depending on the source, between 250 and 300 aircraft of that type were built, including a few post-war made examples and replicas.
The pictured Bücker Bü 133C Jungmeister was manufactured in 1937 and sold to Spain, where it was operated by the Spanish Air Force as ES. 1-4. After being retired from its military service, the trainer sold to a private owner in the UK and registered as G-BUTX.
Nowadays, that nice-looking and neat biplane is a part of ´Classic Trainers´ aircraft collection located at Plzeň-Líně airfield. Nevertheless, it´s also a frequent participant of various aviation events.
Currently, the Bü 133C G-BUTX is powered by a different radial engine – the Warner Super Scarab 185 of an American origin. However, it is still one of the only few original Bücker aircraft, that were fully manufactured in Germany and survived until today.