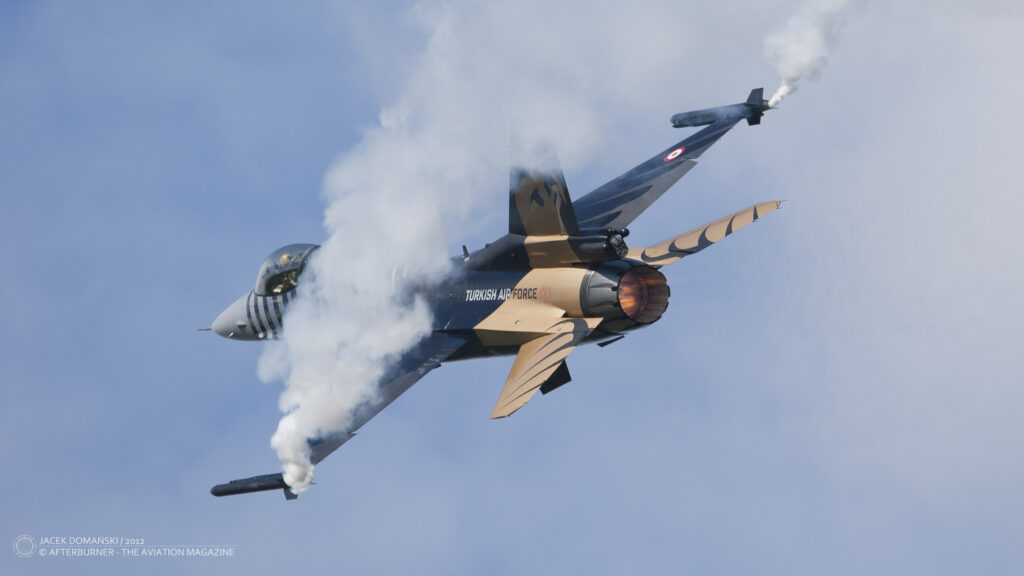 General Dynamics F-16C Fighting Falcon (c/n 4R-91, 91-0011 Turkish Air Force, Solo Türk demonstration team), performing flying display at the 2012 edition of NATO Days, Ostrava- Mošnov, September 2012.
The idea of creating an official F-16 display team of the Turkish Air Force (Türk Hava Kuvvetleri) was initially born at the end of 2009. Next year, three Viper pilots – Maj. Murat Keleş, Capt. Fatih Batmaz and Capt. Sedat Yalın Ahbab – were qualified for a dedicated training programme that was launched in May of 2010.
Major Keleş was the one who completed the training as the first and then, on 20th August 2010, became the first Turkish F-16 demonstration pilot. On 1st September that year, he performed the first official flying display of ´Solo Türk´, as the team was formally named. That initial display was a presentation of the demo group to commander of the Turkish Air Force, Gen. Hasan Aksay. The first public appearance took place a few months later, on 15th April 2011, during an air show at Akıncı air base, celebrating the 100th anniversary of the Turkish Air Force.
Since that time, ´Solo Türk´ is a regular participant of national and foreign aviation and armed forces-related events. The team had visited many well-known air shows, including the Royal International Air Tattoo, Sanicole International Airshow, Bucharest International Air Show and Slovak International Air Fest. Extremely dynamic and eye-catching display of ´Solo Türk´ was admired by spectators in seventeen countries, including Azerbaijan, the Czech Republic, Kazakhstan, Poland, Pakistan, Romania or Slovakia.
For its displays at the RIAT, the Turkish team was awarded two times, receiving ´Best Demonstration Flight´ prize in 2011 and ´Best Solo Jet Demonstration Flight´ award in 2018. In addition, ´Solo Türk´ display was recognized as the best one at the Slovak International Air Fest 2017.
Maj. Emre Mert and Maj. Murat Bakıcı are the display pilots for current, 2022 air show season. They are supported by Capt. M. Bircan Biçer, an official commentator and public relations officer of the team, as well as ten maintenance personnel. During the season, ´Solo Türk´ travels in a formation of two F-16 aircraft (an official display jet and reserve aircraft), supported by CASA-235 or C-130 Hercules transport aeroplanes.
The ´Solo Türk´ display jets are F-16C Block 40H jets and are fully operational combat aircraft. The official aeroplane is carrying a special display livery – always including star and crescent, being the national symbols of the Republic of Turkey – and has smoke generators installed for the time of performance. Between the shows, ´Solo Türk´ pilots and the display aeroplane are flying usual training and combat missions with the Turkish Air Force.
Similarly to other one-aircraft military demonstration teams, ´Solo Türk´ is also rotating the official display jets. After flying a few seasons in the team, the display livery is removed and Viper goes back to normal operational service. And another jet takes its place.
That also happened to the aircraft pictured above. Photographed during the flying display performed at NATO Days 2012, that Viper is carrying the display livery used by ´Solo Türk´ during 2011-2013 seasons. After finishing its operation with the team, the F-16 received standard operational painting of the Turkish Air Force and returned to regular operational service.