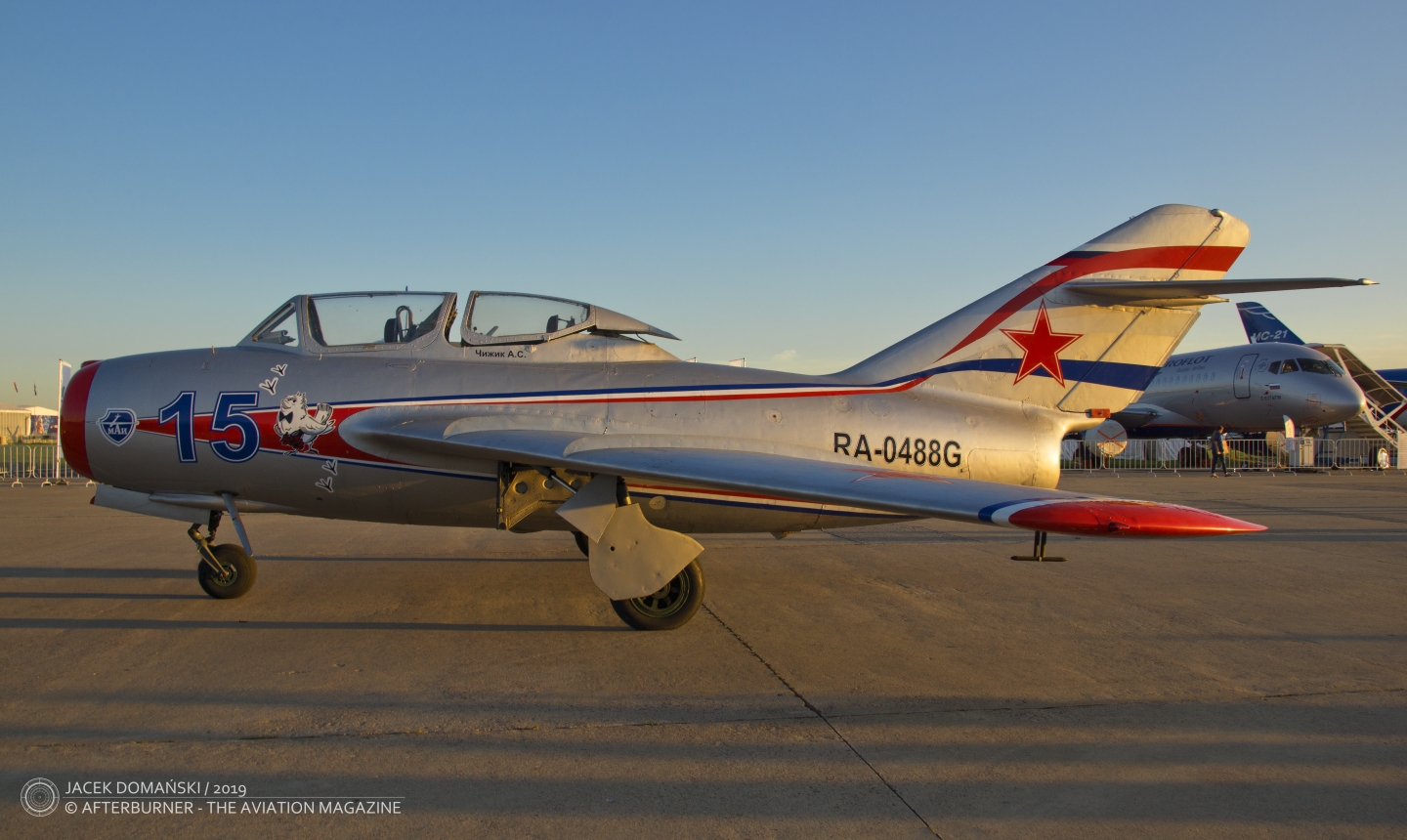 MiG-15UTI (NATO reporting name ´Midget´) two-seat advanced jet training aircraft, participating in the both flying and static displays of the XIV International Aviation and Space Salon MAKS-2019, Zhukovsky, Moscow area.
MiG-15 is one of the aircraft that needs no introduction. It was, presumably, the most produced jet aircraft ever, with more than 18,000 aeroplanes built, and probably is still operationally used as a trainer by the North Korean Air Force, as rumours says.
The new jet entered the Soviet Air Force in 1949, with the role of interceptor aircraft, and pretty soon it became a basic fighter in many Eastern countries. Although MiG-15s had their combat premiere already during the final stage of Chinese Civil War, they usually are mentioned with relation to the Korean War that made them famous.
There were approximately 40 air forces operating MiG-15 fighters in Europe, Africa and Asia. More than 15 variants were introduced, including MiG-15UTI – two-seat, dual-control advanced training aeroplane. Apart from the Soviet Union, MiG-15 jets were produced under licence in Poland (designated as Lim-1 and Lim-2), Czechoslovakia (as S-102 and S-103) and China (JJ-2).
MiG-15UTI was also the fatal aircraft for the first man in space, Yuri Gararin – on 27th March 1968, Gagarin, together with Vladimir Seryogin, performed a training flight from Chkalovsky airfield. Their aircraft crashed near Kirzhach, killing both pilots.
Today, there are many MiG-15s preserved in the aviation museums worldwide, as one of the Cold War era icons. There are several airworthy aircraft in the USA and Europe, and our photo shows one of them, the only airworthy MiG-15UTI in Russia.
This aircraft was manufactured in 1954 and spent all its operational years in ДОСААФ (Volunteer Society for Cooperation with the Army, Aviation, and Navy – DOSAAF), flying as an advanced trainer at Vorotynsk, Kaluga area. In 1989 it was withdrawn from the service, stored for many years and changed several owners.
After almost thirty years from the last flight, the group of aviation enthusiasts decided to return this legendary aircraft into the sky. The restoration process lasted a few years and was led by the ´Avion´ company, with the participation of specialists from Moscow Aviation Institute.
It´s no surprise that this renovation wasn´t easy, as some spare parts had to be custom-made or adopted from other aircraft (for example, the ejection seats came from L-29 aircraft). Finally, on 31st August 2011, the restored MiG-15UTI piloted by test pilot Ildus Khasanovich Kiramov (Ильдус Хасанович Кирамов), took-off for its maiden flight from Dvoevka airfield, Vyazma area. Soon after, the aircraft received the registration RA-0488G and the official certificate of airworthiness.
For the first time, the renovated MiG-15UTI was presented to wide public at the air show organized in Zhukovsky in 2012, celebrating the 100th anniversary of Russian Air Force. Today, this aircraft is a part of ´Flying Collection´ belonging to Andrei Stanislavovich Chizhik (Андрей Станиславович Чижик) and based at Stupino / Krutyshki airfield.
An interesting fact is, that the word ´чижик´ means a small siskin bird in Russian. And that´s probably why the funny drawing of a siskin became a nose art of restored MiG-15UTI, together with the MAI logotype and the owner´s name placed below the canopy.