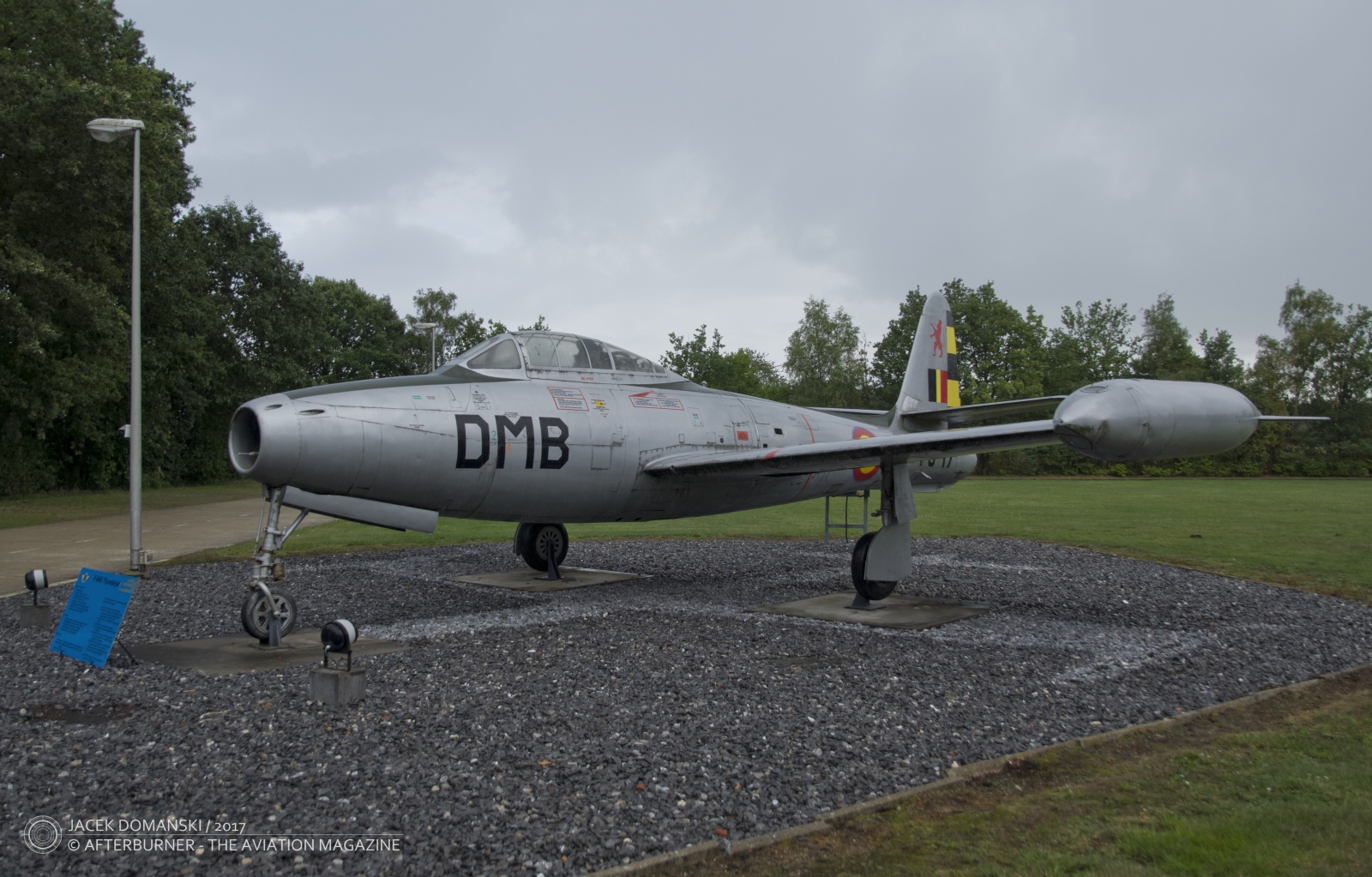 Republic F-84E Thunderjet ´FS-17 / DMB´ (c/n 2335-1366), formerly Belgian Air Force, on display at the Kleine-Brogel air base, Belgium, September 2017.
Thunderjet was born in 1944, when the works on a turbojet-powered successor for the P-47 Thunderbolt were launched at Republic Aviation company. The new design was warmly received by the USAAF authorities and the maiden flight of the first prototype took place on 28th February 1946.
Due to strong pressure on implementing the new jet fighter into operational service, the flight test stage was significantly reduced and F-84 entered the service yet in November 1947. This rush for a new fighter has shortly taken a revenge – early Thunderjets suffered from many serious problems with the airframe structure and engines, and, in addition, the first signs of transonic effect appeared at the top speed. As a result, the USAAF began to consider the F-84 as a fully operational aircraft only in 1949, with the introduction of F-84D variant. However, there are many opinions claiming the first version free of all those ´teething troubles´ came as late as 1951, with F-84G.
All those initial troubles, together with specific requirements at take-off and landing (with a full load, F-84 needed 3,000 metres of runway to take-off) provoked several nicknames the Thunderjets were famous for: ´Mechanics´ Nightmare´, ´The World´s Fastest Tricycle´, ´Lead Sled´ or ´Ground Loving Whore´.
Thunderjets of F-84D and F-84E variant entered combat during the Korean War. Used there as both escort fighter and fighter-bombers, Thunderjets performed more than eighty six thousand combat missions. A decade later, Portuguese F-84Gs deployed to Angola, were used during the Portuguese Overseas War, flying as a strike aircraft.
Despite the initial problems, Thunderjets finally turned out to be a successful fighter of the early-jet era. There was more than seven thousand aeroplanes manufactured and they were operated by fourteen air forces. A few innovations from the aircraft development are also related to F-84, like being the first fighter with air-refuelling capability, the first single-seat aircraft to carry a nuclear bomb or first long-range jet fighter flights over the Atlantic.
The Belgian Air Force acquired approximately 213 F-84G and 20 F-84E aeroplanes as a part of the Mutual Defence Aid Programme for NATO countries. The first Thunderjets were delivered yet in 1951 and most of them were a former USAF aircraft. Belgian F-84 remained operational until 1957 when they were retired or sold to other countries, as Denmark, Turkey, Greece or Yugoslavia.
The pictured ´FS-17´ fighter was used as an instructional airframe and after being withdrawn from active service this Thunderjet finally joined the collection of historical aircraft located inside the Kleine-Brogel air force base.