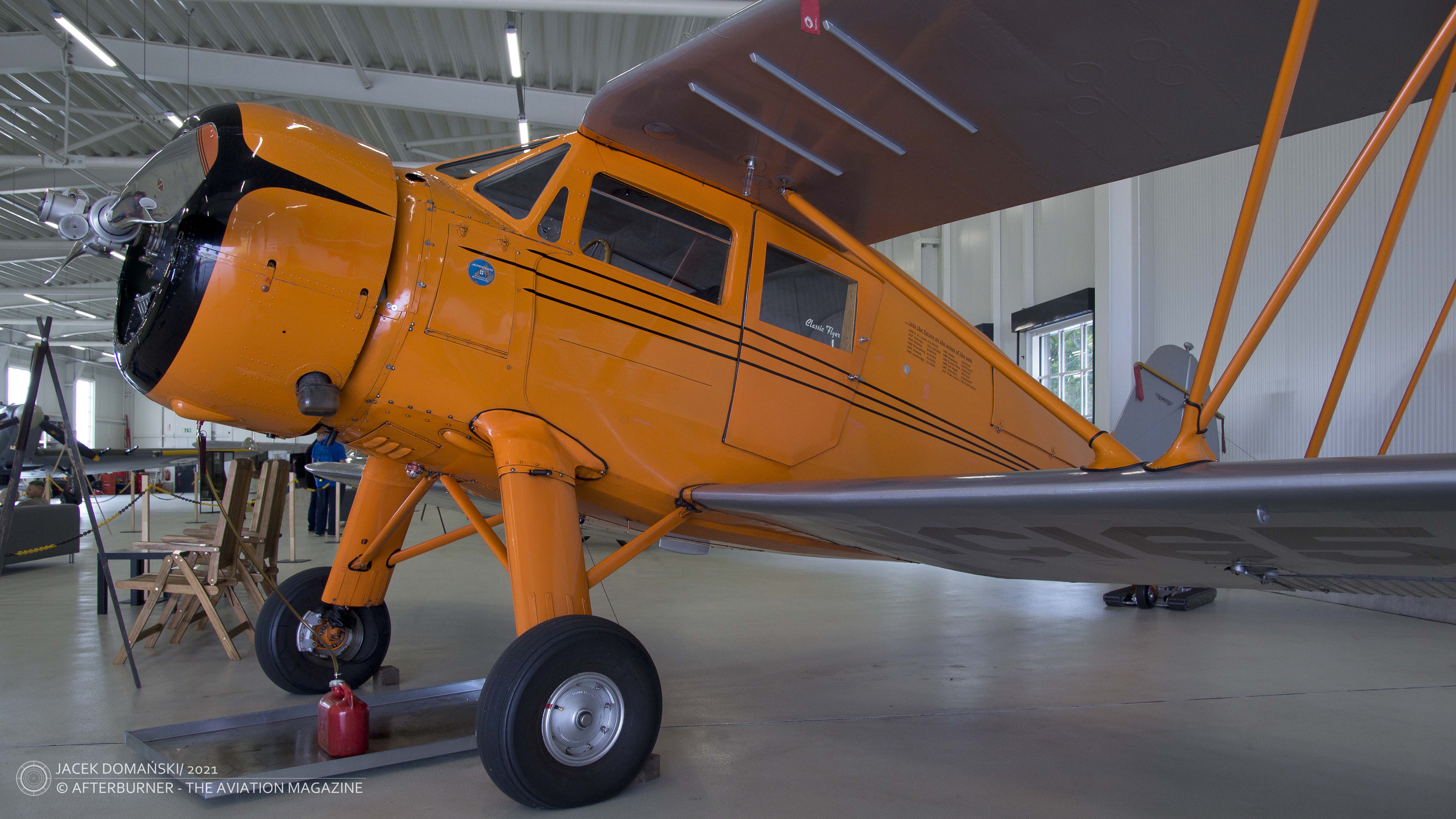 Waco YKS-6 (c/n 4504, NC16512), static exhibition during an open-doors event at Točná airfield, September 2021.
Weaver Aircraft Company of Ohio, as the company was initially named, was founded in 1920. It was a joint enterprise of two businessmen – Clayton J. ´Clayt´ Brukner and Elwood ´Sam´ Junkin, and two pilots – Charles ´Charley´ William Meyers and George ´Buck´ Weaver.
Although their first design of a floatplane was nothing but failure, further aircraft created by the company have gained popularity and soon many loyal customers praised the WACO aeroplanes for their reliability.
In 1923, Weaver left the company and its name was changed to Advance Aircraft Company and then again in 1929, to Waco Aircraft Company.
In the 1930s and 1940s, production range of the company included open cockpit biplanes, enclosed cabin biplanes and sesquiplanes, as well as several experimental aeroplanes. The Waco aircraft were extremely popular in the USA and that, paradoxically, led to collapse of the company in the late 1940s.
During the war years, Waco produced a large number of military gliders for the USAAF and the RAF. They were widely used in the Allied airborne operations, including D-Day and Market-Garden. Moreover, hundreds of Waco biplanes were built for the Civilian Pilot Training Program, supported by the US military authorities.
Similarly as many other aircraft manufacturers, Waco and its owners were expecting another aviation boom to come after the World War II. For this reason, several new designs of light aircraft were developed by the company, including Waco Model W Aristocraft – a four-seat monoplane with just as advanced as unique configuration of front-mounted engine and pusher propeller at its rear.
Regrettably, the anticipated boom never came. The cruel reality of shrinking market forced the company owners to abandon new projects, such as Aristocraft, and finally to close the Waco factory in 1947.
The YKS-6 represents a family of Waco S Series biplanes, that was launched by the company in 1935. Initially, those aircraft were designated as C series (C stands for ´cabin´), because of their enclosed cabin. Later, with introduction of newer variants, those aeroplanes were designated as C-S (´Standard Cabin´) or just S, usually with a numeric suffix to recognize their particular variant.
The aircraft of the S series differed in engine type, length, cabin standard, equipment and sizes. The exact number of produced examples is not known, mostly because of changes in aircraft designation used by the company, as well as a number of variants and subvariants. Depending on the source, different power unit types are mentioned to be used with the Waco YKS-6, including 225 hp Jacobs L-4 or 285 hp Jacobs L-5 radial engines.
Design of Waco cabin aircraft series is following a sense of the art deco style. In the 1930s, it was advertised as fast and luxury aeroplane – ´smartly and comfortably finished´, although still offering one of the best passenger-mile value.
The Waco YKS-6 pictured above was manufactured in 1936. For many years, that aircraft was operated by an aviation medical service in Alaska. Then it changed owners several times and finally,  since 1997, was exhibited as a deposition in Deutsche Museum, Flugwerft Oberschleissheim – although still being in airworthy condition.
In 2019, the YKS-6 became a part of collection located at Točná airfield, in the Czech Republic. According to the official web site of the Točná association, it is currently the only airworthy YKS-6 and one of only two airworthy Waco biplanes of the S series in Europe.
Starting with the 1960s, there were several attempts to re-establish Waco company and several manufacturers were using the brand for their aircraft. Currently, the WACO Classic Aircraft from Michigan, although unrelated to the original company, is manufacturing a modern variant of the Waco YMF-5 open-cockpit biplane. The aircraft is being manufactured by hand, based on original production process from the 1930s, however with implementation of modern technology, materials and with accordance to current aviation and safety standards.