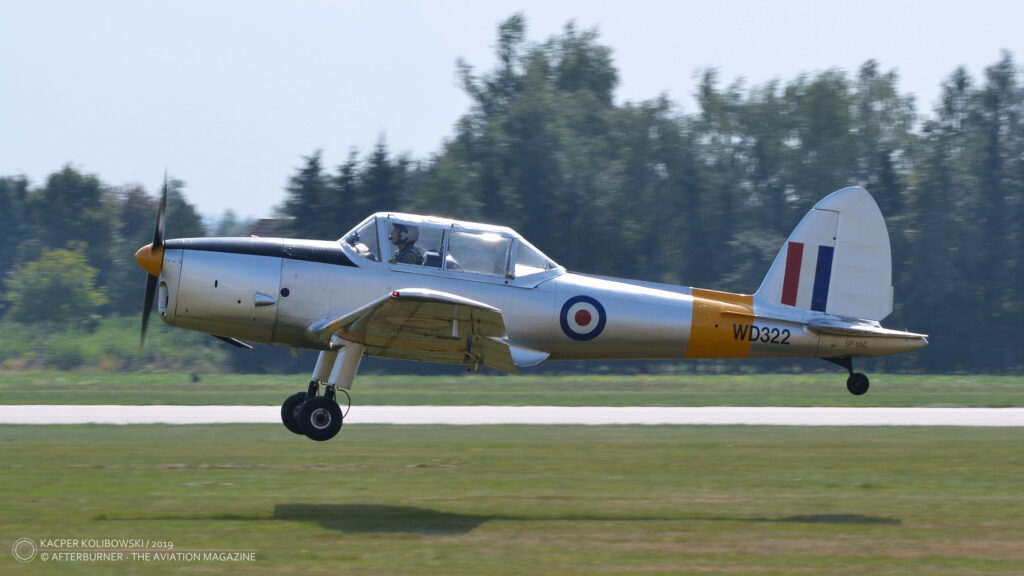 de Havilland Canada DHC-1 Chipmunk 'WD 322' (c/n 50/1360, reg. SP-YAC) landing after display during the Central Air Show of the 100th Anniversary of the Polish Aeroclub, an event organized in Rzeszów, Poland; on the last day of August 2019.
The DHC-1 Chipmunk was the first post-war aircraft design of de Havilland Aircraft of Canada Ltd., developed shortly after the Second World War. Its creation was a direct result of a widespread desire and need in Canadian aviation to replace already somewhat obsolete aircraft with new designs, incorporating the latest advances gained within a rapid development of aviation during the war.
The Canadian subsidiary of the famous British de Havilland Aircraft Company took on the task of developing a modern training aircraft as a successor to de Havilland DH.82 Tiger Moth – a biplane that was a war-time primary workhorse in training units of many air forces, including the Royal Canadian Air Force.
Work on the new aircraft, that soon became known as Chipmunk, began already in 1945. The construction team was led by Wsiewołod Jakimiuk, a Polish aeronautical engineer (who, before the war, was involved in developing a PZL P.11 fighter), at that time working as a chief designer at de Havilland Canada.
On the contrary to its aforementioned British biplane predecessor, the Chipmunk was a low-wing cantilever monoplane of almost all-metal construction (despite control surfaces and part of the wings, covered with fabric). It had a fixed landing gear with a classic tailwheel configuration and an enclosed, two-seat tandem cabin with a rear-sliding, clear plexiglass canopy. In addition, the aircraft was equipped with a number of features intended to improve its aerodynamic characteristics and flight performance.
Already on 22nd May 1946, a prototype of the Chipmunk, flown by de Havilland test pilot Pat Fillingham, performed its first flight at Downsview airfield in Toronto. The prototype was equipped with Gipsy Major 1C, a 145 hp, air-cooled piston engine. Later, serial manufactured aircraft were powered by inline Gipsy Major 8, of the same power.
In 1947, de Havilland Canada launched serial production of the aircraft under official designation DHC-1 Chipmunk. Next year the aeroplane entered its operational service with the Royal Canadian Air Force, as a basic training aircraft. Some examples, however, were also assigned to aeroclubs where they were flown by reserve pilots to maintain their skills.
Soon the DHC-1 attracted interest from the Royal Air Force, as a potential successor to the British-operated Tiger Moths. Three examples of Chipmunk were handed over to the RAF and underwent evaluation trials. As a result, the British Air Ministry issued a T.8/84 specification in regards a potential DH.82 successor. It should be noted that also a Fairey Primer aircraft was considered within that specification, but eventually did not enter serial production. Thus, in 1950, the DHC-1 entered service with the RAF, designated as de Havilland Chipmunk T.10. In the United Kingdom, the aircraft have been manufactured under license by de Havilland Aircraft Company.
In 1951, the first DHC-1 Mk.20s were acquired by the Portugal Air Force. There the Chipmunk was manufactured under licence as well, by Oficinas Gerais de Material Aeronáutico (OGMA) aviation plant.
In total, the de Havilland DHC-1 Chipmunk was operated by military aviation of 23 countries from around the world, being their primary training aircraft for several consecutive decades. Although, sometimes, Chipmunks were also used for other tasks.
In 1958, during the Cypriot intercommunal violence, several DHC-1 aircraft were transferred to Cyprus and were used there to perform internal security flights. From 1956 to 1990, Chipmunks T.10 from RAF Gatow station carried out covert reconnaissance missions over Berlin and East Germany within British Commanders'-in-Chief Mission to the Soviet Forces in Germany (BRIXMIS).
The DHC-1 also made history with an air expedition organised by the Royal Air Force to circumnavigate the northern hemisphere from Europe to North America, between 1996 and 1997. Two of the Chipmunk aircraft, still being in RAF service at the time, were selected for this unusual task and underwent necessary modifications that included expanding fuel capacity and installing upgraded navigation equipment. The aeroplanes successfully completed their journey in 64 days, covering more than 26,166 km and visiting 62 airfields during that time. Following that historic flight, one of the aircraft was donated to the RAF Museum collection and the other one was finally sold to a private owner.
Speaking of private owners, it should be mentioned that, from the 1950s onwards, the aircraft attracted great interest from civil aviation. Many examples – including surplus ones – were bought by civil operators and used for a broad range of purposes, from pilot training to aerobatics or even crop dusting. Some of them were subjected to various modifications and conversions, adapting them to the tasks performed or improving their performance and comfort of use.
In conclusion, it should be mentioned that a total number of 1,284 Chipmunk aircraft was produced in sixteen different variants. Although nowadays many of them can be found in aviation museums, there are still some of DHC-1 aircraft that are in flying condition. And exactly one of them became a subject of our current Photo of the Week.
The aircraft pictured above was manufactured in 1959, by OGMA in Portugal. It only completed its service in the Portuguese Air Force in the 1990s and then was handed over to an aeroclub. Subsequently, the aeroplane underwent some modifications, including its engine that was changed to a Lycoming power unit.
Eventually, this very Chipmunk was bought by Polish pilot Jacek Mainka and brought to Poland in July of 2014. Currently, the aircraft bears the RAF Training Command paint scheme from 1951 with tactical number 'WD 322'. Today, that DHC-1 is part of Flying Museum of the Polish Air Force 1940-1947 (together with de Havilland DH.82 Tiger Moth introduced within this series two weeks ago) with its home airfield in Konstancin-Jeziorna.