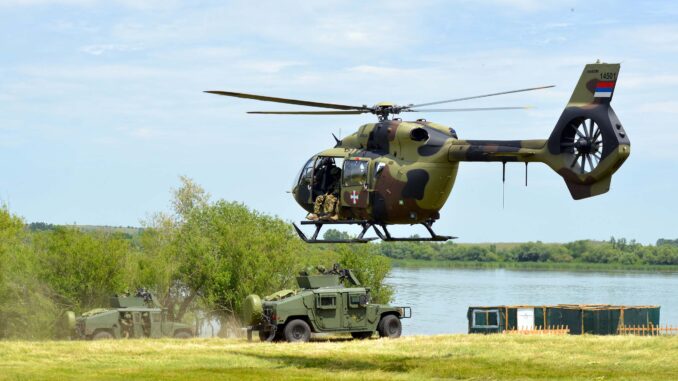 Beginning of this year´s summer in Serbia was marked by a large-scale tactical exercise of domestic armed forces. A series of training activities under a common name ´Momentary Response 2021´ (Муњевити удар 2021) had started in the middle of June, being hold on eight different locations thorough the country. On 27th June, they culminated in a joint combat exercise that took place at ´Pešter´ training area.
Within the scope of ´Momentary Response 2021´ a counter-terrorist exercise was realized by the Special Operations Battalion ´Griffons´ of the 72nd Special Operations Brigade. Organized in the area of Deliblatska Peščara / Deliblato Sands in Vojvodina province, this training was widely supported by the Serbian Air Force units and their Gazelle helicopters.
Tactical scenario of anti-terrorist exercise included practise of techniques and procedures used in situation when a facility of special importance was captured and occupied by a terrorist group. Airborne landing, reconnaissance and gathering intelligence information were a significant part of that training.
Currently there are approximately thirty of Gazelle helicopters in the Serbian Air Force inventory of both reconnaissance/close support and anti-tank variants. They were license-manufactured yet in the former Yugoslavia by SOKO aviation company. In recent years, the Serbian Gazelles were a subject of modernization, performed in cooperation with Airbus.
All photos © Министарство одбране Републике Србије / MoD Republic of Serbia. MoD press releases were used.