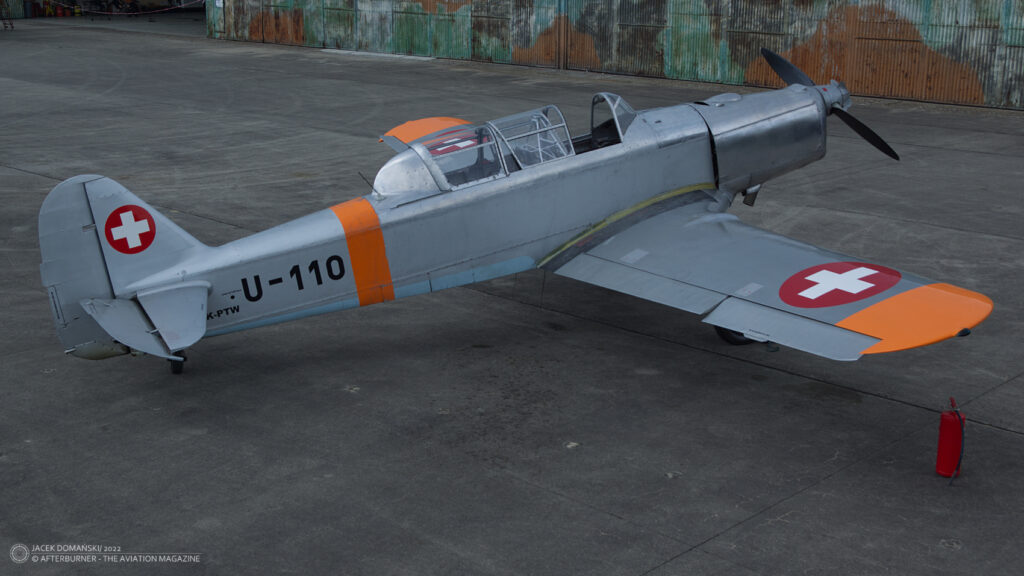 Pilatus P-2-05 (c/n 600-30, OK-PTW, formerly U-110 of the Swiss Air Force), exhibited at Classic Trainers open doors day, Plzeň, May 2022.
In the middle of the World War II, the neutral country of Switzerland was looking for a training aircraft for its air force. Several attempts were made to acquire license rights for manufacturing Italian or German aeroplane, such as Ambrosini SAI.7 or Arado Ar 96, but none of them were successful.
With no other option, the Swiss authorities have finally decided to develop the trainer domestically. They remembered about the Pilatus company and its initial aeroplane design, known as Pilatus P-1. That concept of a single-seat trainer was created by Henri Fiert in October of 1940, but quickly abandoned due to lack of governmental interest.
In this new situation, that project was pulled out from the drawer and Pilatus was assigned the task of converting the initial concept into a two-seat training aircraft. The first project of the new aircraft, designated P-2, was ready in 1942 and enthusiastically welcomed by the Swiss Air Force. Nevertheless, the development still lasted for another few years.
On 27th April 1945, prototype of the P-2 trainer took-off for its maiden flight. It was a low-wing monoplane of mixed construction (metal, wood and fabric), with two seats in tandem configuration and retractable tailwheel. Although emerged from the P-1, that new trainer, to save costs and development time, was made with several systems and parts coming from retired Swiss Air Force aircraft. For example, the abovementioned undercarriage was taken from Messerschmitt Bf 109. The Pilatus P-2 was powered by Argus As 410 in-line engine, generating 465 hp and known from the Ar 96 or Focke-Wulf Fw 189 aeroplanes.
The Swiss Air Force approved the P-2 as its new trainer and the aeroplane went into serial production. A total number of 55 aircraft was manufactured, including two prototypes. The Pilatus P-2 was built in two main variants: unarmed P-2-05 and P-2-06 equipped with machine gun and bomb racks. One aircraft was also equipped with Hispano-Suiza HS-12Mb engine and tested in both unarmed and armed configuration.
The P-2 trainer was pretty successful with the Swiss Air Force and remained in service until 1981, when all forty eight surviving aircraft were retired and sold to civilian operators.
Nowadays, about twenty P-2s are still airworthy all over the world. From time to time, the aircraft can be seen on the silver screen, playing a role of Luftwaffe aircraft in Hollywood movies – such as Indiana Jones and the Last Crusade, released in 1989.
The pictured Pilatus P-2 is currently a part of the Classic Trainers collection, based at Plzeň-Lině airfield in the Czech Republic. It was manufactured in 1947 and acquired by its current owner in 2013. The aircraft was initially flying as U-110 with the Swiss Air Force, then, after the decommissioning, was registered as G-PTWO. With its arrival to the Czech Republic, the P-2 was registered as OK-PTW.