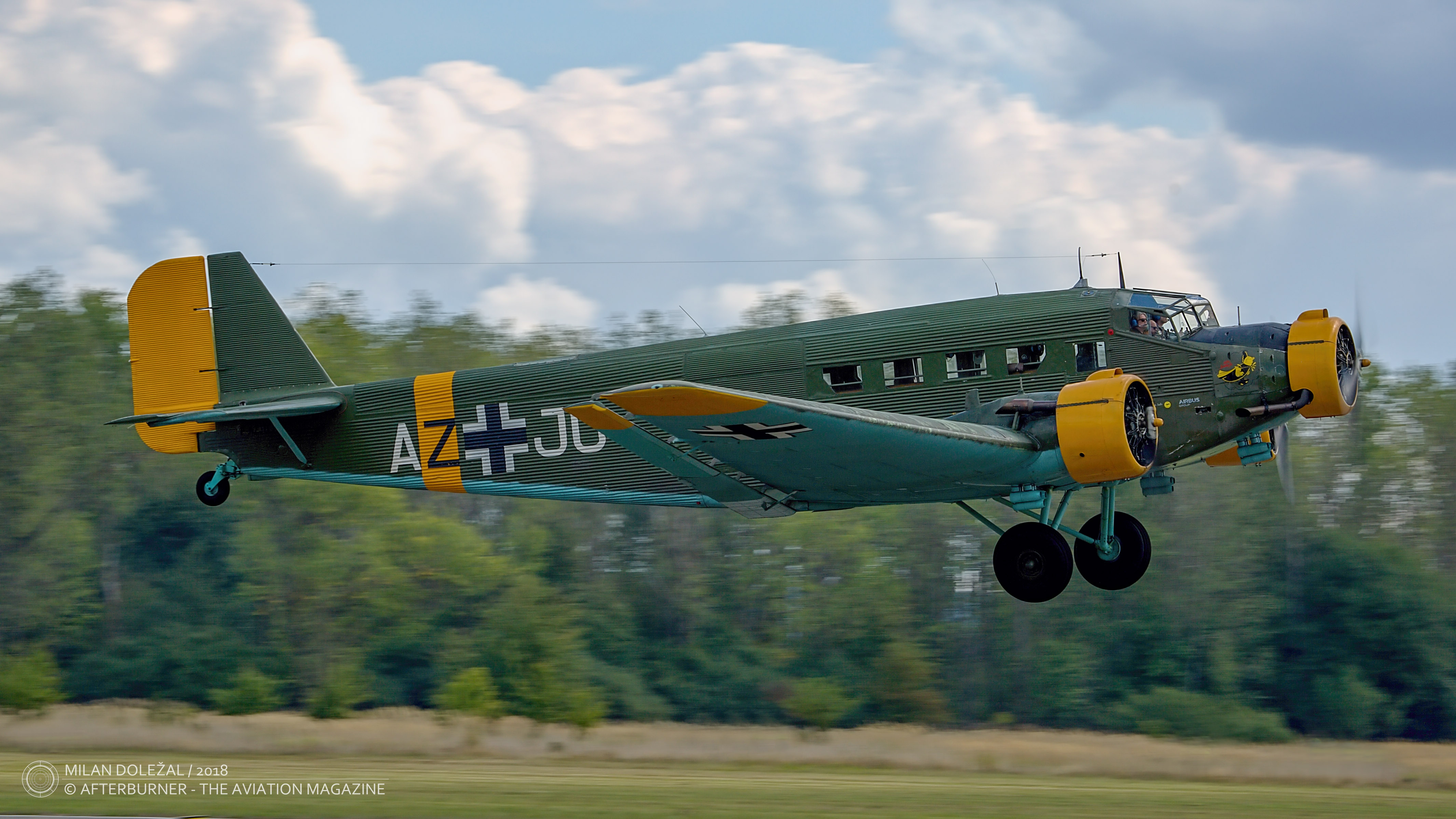 Junkers Ju 52/3m (assembled in Spain as CASA 325L, c/n 13, F-AZJU), Amicale Jean Baptiste Salis, Plzeň/Líně airfield, September 2018.
The Ju 52 was created in 1930, initially being just another single-engine aircraft representing the series of all-metal aeroplanes designed by the Junkers company and featuring a corrugated duralumin metal skin. Its development, led by Ernst Zindel, was focused on creating a durable and robust aircraft, able to operate in areas with almost no infrastructure and therefore requiring little care or maintenance. Originally, the new transport aircraft had to be powered by a diesel engine.
Nevertheless, the project caught attention of Reichswehrministerium (Reich Ministry of Defence) and since that moment its development was strongly influenced by military requirements. The needs of civil aviation were pushed off into background and it was only thanks to strong pressure of Deutsche Luft Hansa AG, that a commercial version of the Ju 52 was ever made.
The new aircraft performed its maiden flight on 13th October 1930. It was powered by an 800 hp V-12 engine built by Junkers. During the course of successive rehearsals, several other engines were tested, in order to find the right power plant for that aeroplane – BMW IV, Armstrong Siddeley Leopard and Junkers Jumo 204. Nevertheless, all of them have proved to be insufficient for such a big aircraft and finally, after a crash of one of prototypes, it was decided to redevelop the Ju 52 into a trimotor configuration.
On 7th March 1932, the three-engine version, powered by BMW 132 radial engines, made its first flight. The new variant was designated Ju 52/3m (3m being an abbreviation for drei motoren, English: three motors), as distinct from initial Ju 52/1m series of prototypes.
One of characteristic features of the new aircraft, apart from the abovementioned duralumin skin, was its low cantilever wing with trailing-edge control surfaces, commonly known as Doppelflügel (English: double wing). Although the Ju 52 was primarily designed as a military transport aeroplane, its makeshift bomber variant was also developed, capable of carrying up to 500 kg of bombs. Most of the aircraft manufactured in the cargo variant could easily be converted into bombers, as they were made with all the necessary equipment and installations, including hatches in the fuselage, to be used as machine gun positions.
Nevertheless, the first two known Ju 52/3m aircraft were of passenger variant and in 1932 they were delivered to Lloyd Aéreo Boliviano airline in South America (J.R. Smith, ´Aircraft Profile No. 177: The Junkers Ju 52 Series´, 1966). Later the same year, another two civil Ju 52s were delivered to Deutsche Luft Hansa. Shortly thereafter, an order for another eleven aircraft followed.
Although the German national airline became the main operator of the civilian variant of the Ju 52/3m, there were approximately 100 other examples of passenger variant delivered worldwide, including the UK, Greece, the Soviet Union, Poland, Peru, Brazil, Argentina and the South Africa.
As a part of so-called Rhineland programme, the Junkers company received an order for 450 examples of Ju 52/3m, to be built as makeshift bombers. The first batch of 192 aeroplanes was delivered until the end of 1934 and eventually, following later orders, a total of 1027 makeshift bombers were made for the German armed forces by the end of 1937.
With introduction of modern German bombers in the late 1930s, many of the Junkers Ju 52s were re-converted into a classic cargo aircraft. After the outbreak of war, the ´Tante Ju´ (English: Aunt Ju) – as the aeroplane was commonly nicknamed – became increasingly used in a role of transport aircraft, being merely too obsolete as a bomber. There were approximately 4,500 aircraft of that type in several military versions made until the end of 1944, including those produced in France, by Amiot aviation plant. The latter was still manufacturing an aircraft based on the Ju 52 design after the World War II, named Amiot AAC.1 Toucan.
In 1942, Construcciones Aeronáuticas S.A. acquired a licence to manufacture the Ju 52 in Spain. The aircraft was designated CASA C-325L (military designation T.2) and was powered by ENMASA Beta E9C engine (a licensed copy of the BMW 132). There were 170 aircraft of that type made in Spain until 1954, when production of Ju 52/C-325L was finally ceased.
The pictured ´Tante Ju´ F-AZJU, owned by Amicale Jean Baptiste Salis association from France, is really a unique aircraft, as it combines a German-manufactured fuselage and CASA-built wings. It was one of the first Ju 52s assembled in Spain in 1943, when those aeroplanes were made with using some original components made in Germany, at Junkers aviation plants.