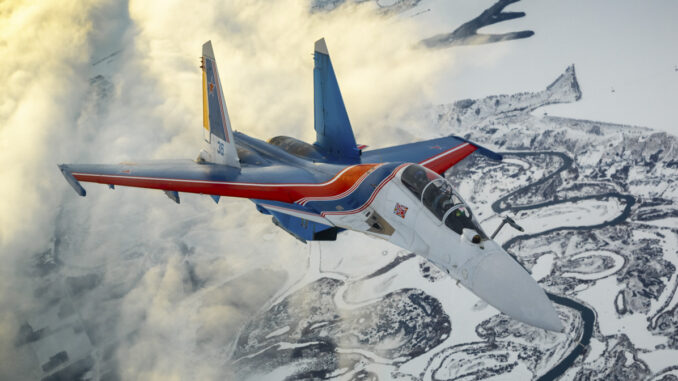 Thirty years ago, on 5th April 1991, one of the most famous military aerobatic groups – Русские Витязи (English: Russian Knights) of the Russian Aerospace Forces – was established. The team celebrated its 30th anniversary with training flights for the Victory Parade 2021.
The first idea for creating an aerobatic group within the Aircraft Demonstration Centre (Центр показа авиационной техники) appeared yet in 1989, when the 1st squadron of the Centre received new Sukhoi Su-27 fighters. Although the process of becoming familiar with this new aircraft was long and complicated – taking under consideration that new Sukhoi aeroplane was significantly larger and heavier than fighter aircraft used until then, in addition having its own specific aerodynamic characteristics – pilots from the unit slowly learned their way how to fly in formation of two to four Su-27 aircraft. And exactly a diamond formation they created at that time, was the first step into establishing an aerobatic team.
Officially, the aerobatic group was formed on 5th April 1991 and included six Sukhoi Su-27 fighters, being painted in colours of the Russian flag. They were flown by: Col. V. Basov (leader), Lt. Col. A. Dyatlov, Maj. S. Ganichev, Lt. Col. V. Bazhenov, Lt. Col. V. Bukin and Maj. A. Lichkun.
After only four and a half months later, on 24th August 1991, the Russian Knights premiered at a foreign aviation event – an air show in Poznań, Poland. In September of the same year, the Russian aerobatic team visited England and participated in two further air shows there, including a joint flight with the famous RAF Red Arrows.
The year 1992 was marked by two visits in the USA. In June, two Su-27UB from the Russian Knights participated in the air show in Portland and one month later they performed at Bradley, Alaska. It is worth to mention here that it also did not take too long for the US aerobatic team to visit Kubinka. The Blue Angels group of the US NAVY arrived there yet in September 1992. Shortly after flying together with their American colleagues over Moscow, the Russian Knights left to France and attended the 50th anniversary of forming the Normandie-Niemen squadron. They also met with Patrouille de France there and performed some joint flights.
During the next air show season, the Russian Knights debuted in the Netherlands, Canada and Malaysia. They also performed a display during the first edition of the International Aviation and Space Salon MAKS-1993.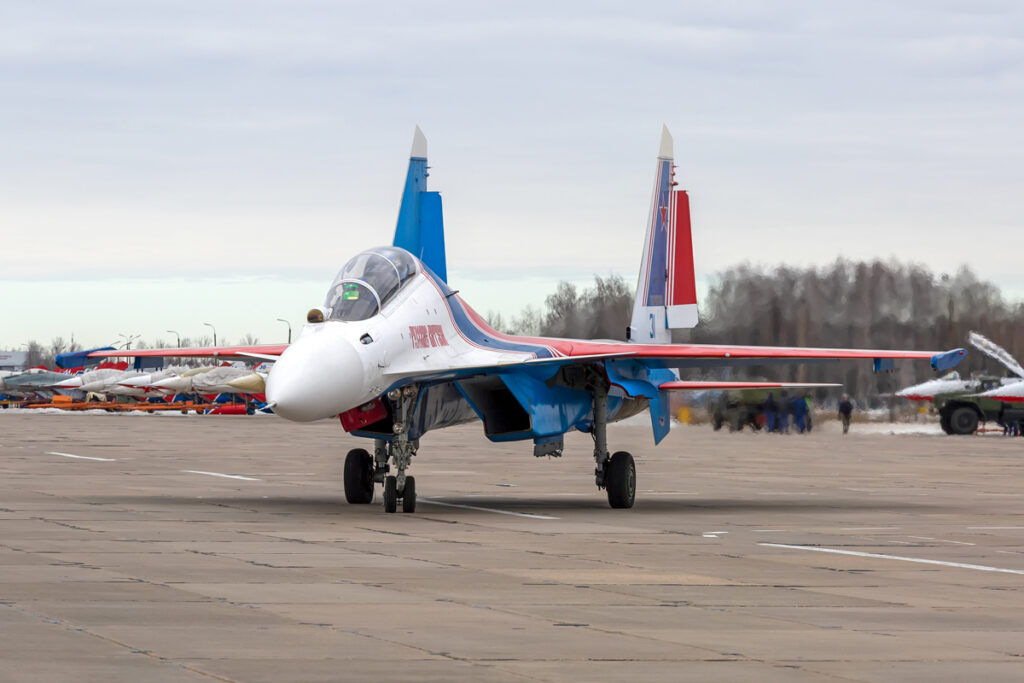 The following year brought even more international premieres – in Belgium, Luxembourg, Slovakia and Turkmenistan, together with some spectacular domestic displays. On 9th May 1995, the Russian Knights performed a show over Moscow at the 50th anniversary of V-Day in Europe. In December the team participated in LIMA-95 event in Malaysia, after which the Russian Knights suffered a heavy blow.
On a return flight from Malaysia, a formation of five Su-27 and Il-76 transport aircraft had a scheduled refuelling stop at Cam Ranh air base in Vietnam. The Russian aircraft were approaching the base in severe weather conditions and minimum visibility. At 06:22 hours (Moscow time) two Su-27 and one Su-27UB hit the mountainside and crashed, killing all four pilots. As concluded by the court in 1998, Gen. V. Grebennikov, who was a formation leader and flown the Il-76, was responsible for this tragic accident. According to the court, in extreme weather conditions Grebennikov led the formation too low and too close to the mountain slope.
Almost a year must have passed until the Russian Knights took-off for another public display. In September 1996 four aircraft of the group performed a diamond formation flight at an air show in Gelendzhik. However, foreign spectators had to wait another year to see the team in the sky. During the 1997 air show season, the Russian Knights have visited Austria, Slovakia and France. In the same year the group have added another spectacular performance to its record, while performing as an opener for Jean-Michel Jarre laser show in Moscow. In 1998, the Russian Knights debuted in China, at Zhuhai-98 air show.
In the following years the team had completed several displays across the country and, in addition, participated in a few foreign aviation events in China, the United Arab Emirates and Finland.
Another milestone was reached in 2004, when the Russian Knights performed an aerobatic display together with the Swifts (Стрижи) group. A formation of nine combat jets (five Su-27 and four MiG-29) flying the aerobatic programme was a unique achievement, seen in the sky for the first time ever. Once again, both teams banded together in 2005 to perform a joint fly past over Moscow on 9th May. Shortly thereafter, such joint displays of the Russian Knights and the Swifts became an anchor of Russian national celebrations.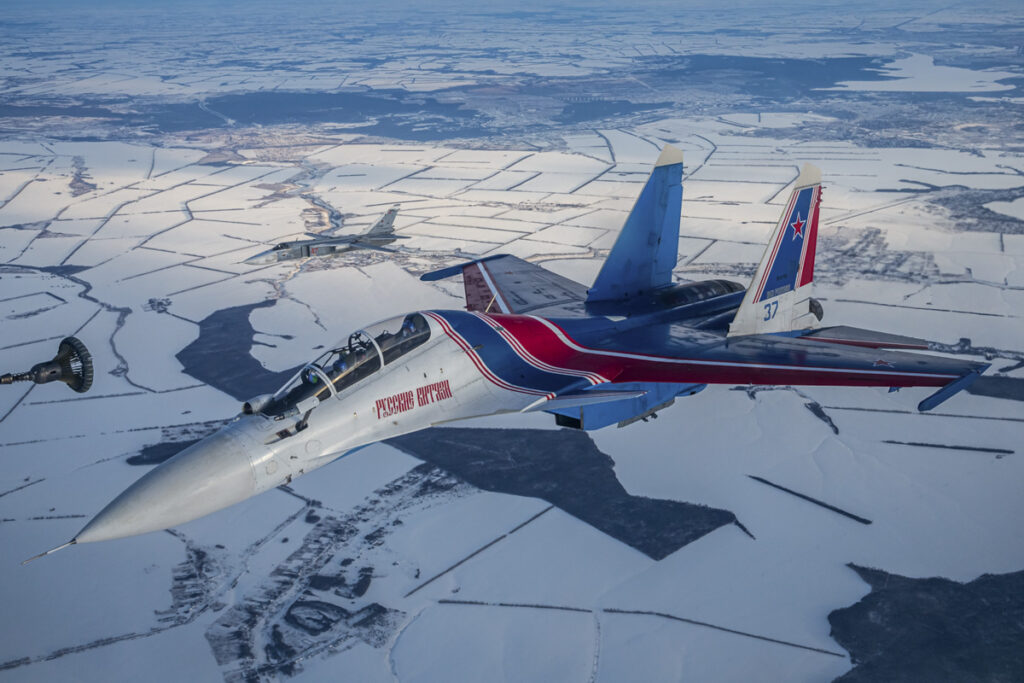 In 2009, during a rehearsal flight to MAKS trade fair at Zhukovsky airfield, two Su-27 of the group collided in the air. Their crews managed to eject but one of the parachutes did not open. As a consequence, Col. Igor Tkachenko, the Russian Knight leader, died on the scene.
Subsequent years brough even more domestic and international displays. The Russian Knights have visited Bahrain, China, Kazakhstan, Kirgizia, Afghanistan, Pakistan, Malaysia and India. In 2013, the team participated in an air show at Kecskemét, Hungary. This was, regrettably, the last performance of the Russian Knights so far in Western European or NATO country.
Things have changed and the good old days of the 1990s, when the Russian aerobatic teams toured the world, are gone. Political tensions, the Crimea crisis and sanctions against Russia that followed, made the Russian military aerobatic group an unwanted guest at Western European aviation events. Despite the fact that many spectators would like to see them there again, putting all political matters away.
Obviously, the team is still continuing with international displays, participating in aviation events in Asian countries: Bahrain, Malaysia, China or Mongolia. A wide range of domestic shows included regular performances at MAKS trade shows, Military Forum ´Army´ and Aviadarts competition, together with participation in several national celebrations and holidays.
In 2016, the Russian Knights aerobatic group received their first four Sukhoi Su-30SM fighters. Regrettably, this was also a year with another tragic loss. On 9th June 2016, Maj. S. Eremenko was killed in an aviation accident, while returning to Kubinka from an air display. Both engines of his Su-27 stopped and a fire broke out. Eremenko managed to fly out from residential area, but this manoeuvre performed in order to save civilian lives, costed him time and altitude. As a result, he failed to eject and died when Su-27 hit the ground.
In November 2019, the team received four new aircraft, Sukhoi Su-35S. Another four were delivered in July 2020. Therefore, at the end of 2020, the Russian Knights´ inventory included four Su-27P, two Su-27UB, eight Su-30SM and eight Su-35S.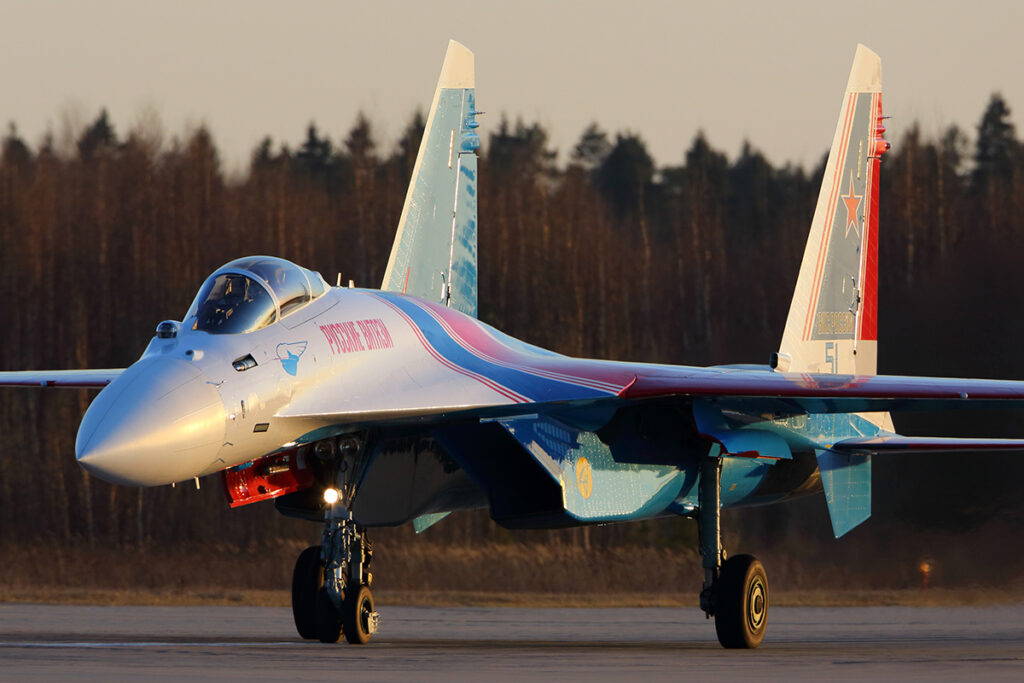 The pilots of the team, at the end of 2020, were: Col. A. Alexeev (leader), Lt. Col. S. Sheglov, Maj. I Tkachenko. Col. O. Erofeev, Maj. V. Kochetov, Maj. A. Ivashkin and Maj. S. Strizhak.
The Russian Knight team is a part of the 237th Proskurov Guards Aircraft Demonstration Centre, named after the Air Force Marshal Ivan Kozhedub. Flying and ground crews of the group are chosen from active military personnel, and apart from participating in the activities of the aerobatic team, they are still performing their regular military duties as pilots, engineers or instructors.
The unique feature of the Russian Knights is that the team is the only one in the world flying an aerobatic display with six to eight combat aircraft, representing a class described in Russia as ´heavy fighter´. Certainly, there are other teams that are performing their displays with fighter aircraft (e.g. August 1st in China, flying Chengdu J-10; Blue Angels in the USA, flying F/A-18 Hornet) – but none of them is using such heavy, large and mighty aircraft as Su-27 family is.
For comparison, maximum take-off weight of J-10 is 23,000 kg and it has a thrust of 125 kN with afterburner; F/A-18 Hornet has a maximum take-off weight of about 23,000 kg and 79 kN thrust with afterburner (each engine). The Sukhoi Su-35S outclasses them both with its 34,500 kg of maximum take-off weight and single engine thrust of 142 kN with afterburner.
The earliest opportunity to see the Russian Knights in 2021 would be the Victory Parade in Moscow, on 9th May. The team already confirmed its participation in flying display programme of MAKS-2021 show.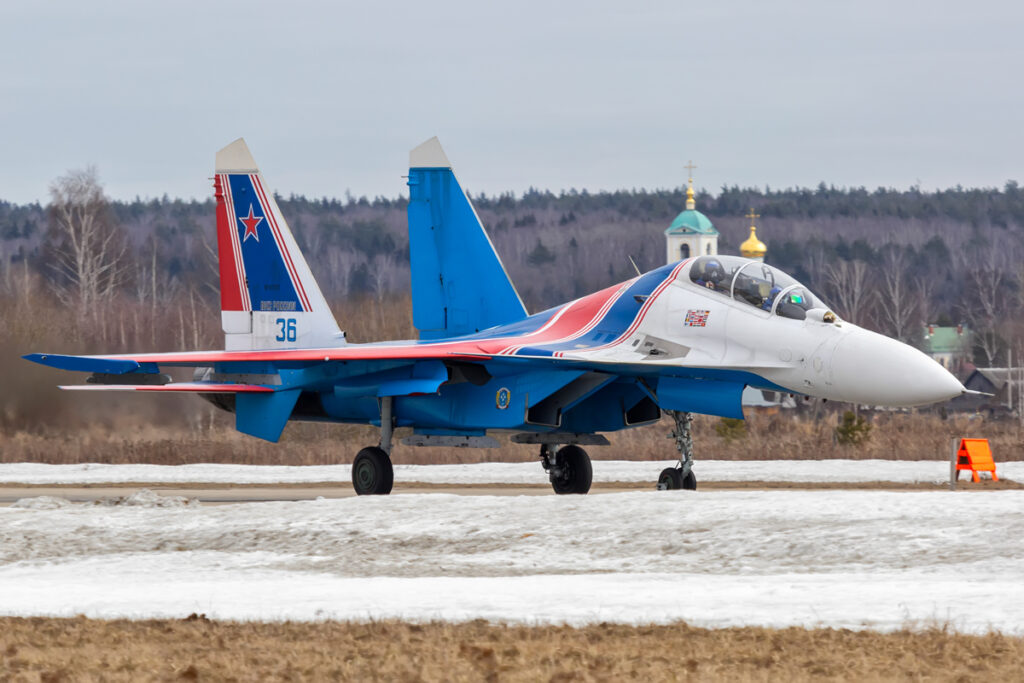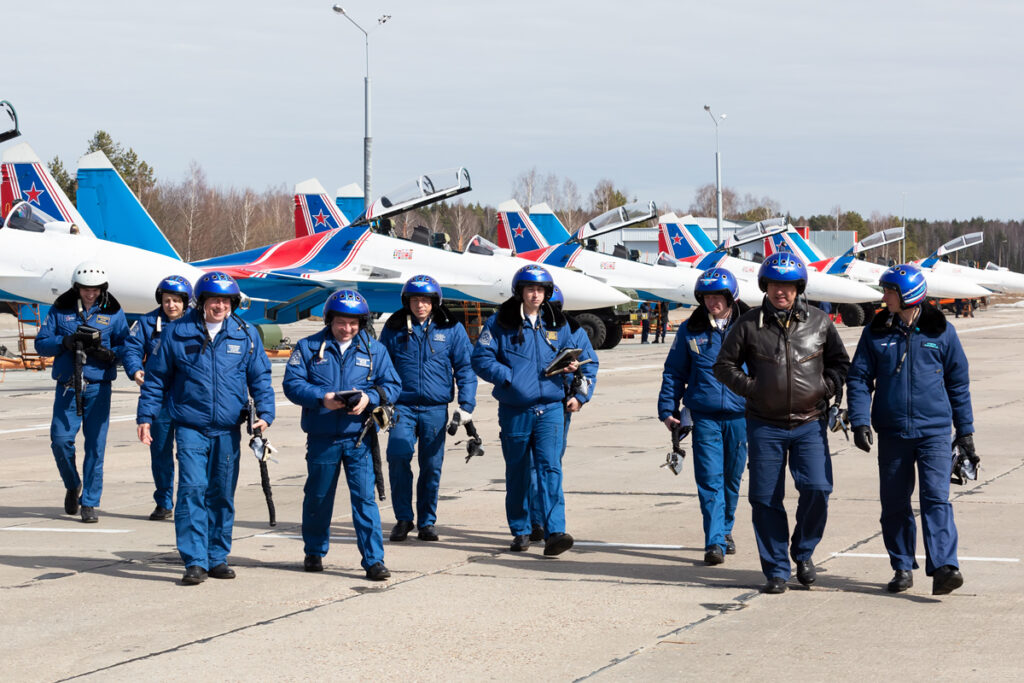 All photos © Russian MoD (Министерство обороны Российской Федерации), used under the Creative Commons Attribution 4.0 license. MoD press information were used.